Building Your Home In Houston:
What You Can Expect
In just the first seven months of 2019, the city of Houston issued 20 times the amount of building permits as the average metropolitan area, according to Apartment Guide.
What is it about the city that's drawing people there and keeping custom home builders in Houston so busy? And what can the area offer you? Read on to learn why you should build a new home in Houston and what you can expect from your home builder and the home building process.
Why Build A Custom Home In Houston
When choosing where to put down your roots, it's important to consider certain factors that will affect your day-to-day life. Are you moving to an area you can afford? Will you be able to find a job when you get there? Will you be able to raise a family and do the things you love there?
When considering these factors, it's easy to see why people are moving to Houston. The largest city in Texas has much to offer – and at a fraction of the cost as many other large cities in the U.S. Here's what we love about it.
Low Cost Of Living
Houston's cost of living is much lower than other big U.S. cities, like New York, Los Angeles, and Atlanta, and has an overall cost of living that's lower than the national average. It's also cheaper to live in Houston than other major metro areas within Texas, including Austin and Dallas.
Unbeatable Healthcare Amenities
Houston residents have access to some of the best healthcare in the country, with more than 85 hospitals in the area, including the world's largest medical center, the Texas Medical Center (TMC). Housed on 675 acres, the TMC is home to 13 teaching hospitals, two medical schools, and multiple colleges of nursing, pharmacy, optometry, and dentistry.
A Hot Job Market
Along with a medical system that employs more than 100,000 healthcare professionals, Houston also hosts the second-most Fortune 500 headquarters of any city in the country and is often ranked one of the best cities to start a business. The city serves as a hub for several industries, including oil, energy, aerospace, technology, manufacturing, and healthcare.
Family Friendly
Houston is home to some of the most family-friendly suburbs, attractions, and activities. With more than 150 museums and cultural centers, more than 350 parks, miles, and miles of hiking and biking trails, a theater district, zoo, nature center, aquarium, and world-renowned space center, kids will never tire of exploring the world and beyond – all within city limits.
Something For Every Lifestyle
Your home won't be the only thing you can custom fit to your lifestyle. Houston is so large and diverse that you'll be able to choose from the city's many offerings to build your ideal life there.
Within the city's 88 different neighborhoods you can find anything of interest – from hiking trails, dog parks or skate parks to award-winning restaurants and historic landmarks. You'll find bustling city streets and bohemian communities or quaint neighborhoods with small-town charm. Needless to say, whoever you are, you'll find your niche in Houston.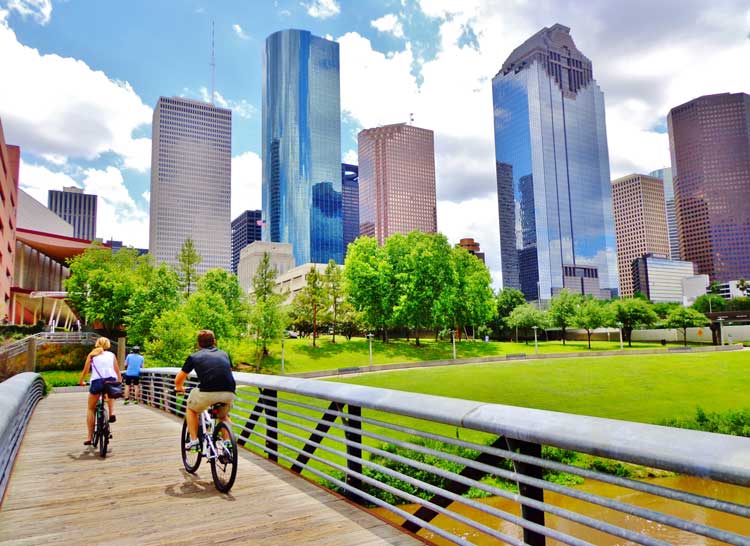 Bicyclists cross a wooden bridge in Buffalo Bayou Park, with a beautiful view of downtown Houston.

A Mix of International and Texan Cultures
With at least 145 languages spoken amongst its more than 2 million residents, Houston is one of the most diverse cities in the country. And that eclectic mix of various cultures bleeds into the city's art, music and food scenes. But even with all of its diversity, Houston is not without its Texas roots. The city hosts an annual 20-day livestock show with rodeo events and a barbecue cook-off and is a short drive from the George Ranch Historical Park, where you can learn more about Texas heritage while watching blacksmiths at work and cowboys sort and rope the cattle.
What To Expect When Building Your New Home
Once you've decided to build a custom home in Houston, now the fun can begin. Building a home can be an exciting process, but it helps to be prepared. Here's what to expect in the months ahead.
Finding Custom Home Builders In Houston
One of the first steps on your home building journey is to find the right custom home builder in the Houston area. You'll want to work with a builder who not only has a good reputation but is one you like and trust. Depending on the size and complexity of your new home, it can take up to 24 months or longer before the build is complete. That's a long time to work with someone you don't like. While price is one factor to consider, the quality of the build and the builder is also very important. Do your research, meet with a number of builders, share your goals and budget, see how they can help, and choose the one you feel most comfortable with.
Cost To Build A Custom Home
The cost to build a new home depends on several factors, including:
The home builder you work with
The size, layout, and complexity of the home
The materials or level of finish you choose
Any add-ons or upgrades you choose
How much you customize the home
To get an idea of what it may cost to build a house in Houston, it's best to talk to a local builder about what you want and what you can get within your budget. Contact us and we'll help you determine a cost for your project.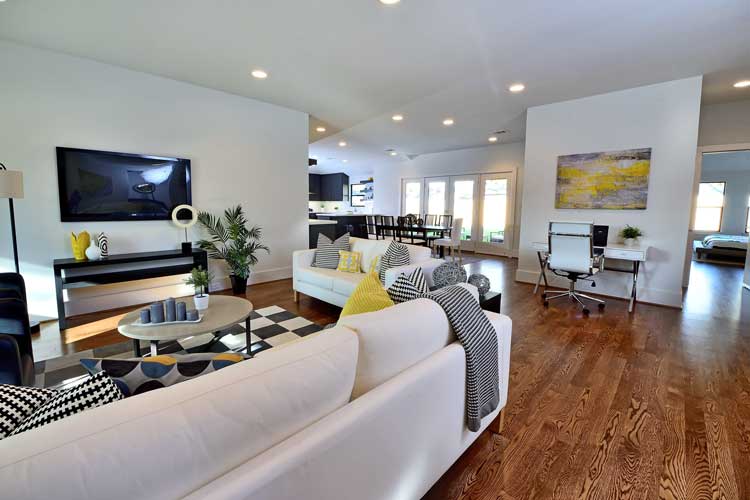 Open living spaces and highly functional design appeals to the needs of the modern homebuyer.

New Home Build Timeline
Building a custom home can take anywhere from 6 months to more than 24 months, depending on the size and complexity of the project. Once you discuss the project with your building team, you'll have a better idea of how long the project will take. No matter the length of time, here's what you can expect to happen on the timeline.
In the beginning, you'll meet with your builder to discuss what you want and need in the home and where you'll build. You'll also figure out the extent of your project, your budget, and a reasonable timeline.
Once those key pieces are figured out, you'll start working with a team of professionals, including an architect, energy consultant, and engineer. You'll choose designs and finishes to further customize your home. Your builder gets to work pricing out the project, creating specifications, and making a proposal.
Once the planning phase is complete, it's time to build on your lot. Contracts are signed, permits are issued and the project schedule is created. Your builder's team will work with suppliers and sub-contractors and visit the site multiple times to ensure everything is running smoothly.
Summary: Work With a Custom Home Builder in Houston
Deciding where to put down roots can be a tough decision, but seeing all that Houston has to offer could make your decision a little easier. Once you're sold on the city, finding the right builder is the next important decision. We recommend finding one that will listen to your goals and take the time to create a plan that best fits your homeownership dreams – and your budget. We want you to love where you live and we think you'll love living in a custom home in Houston. If you're ready to build your new home, contact Sabo Custom Builders today so we can learn more about you, your future home, and how we can turn your ideas into reality.