It can be hard to add additional living quarters to your home, especially when there's limited space to build on your lot. Using an existing structure can help you save money and create more livable areas without having to buy more land. One way homeowners do this is by building a garage apartment.
If you have a garage on your property and are looking to add more room, consider a garage with an apartment.
What is a Garage Apartment?
A garage apartment is a type of accessory dwelling unit (ADU), or secondary housing unit, that is built attached to or above a home's garage. They can be detached from the home or not, but typically have a separate entrance. They can go by many names, including carriage houses, casitas, granny flats, accessory dwelling units, or in-law suites.
Types of Garage Apartments
There are two different types of garage apartments: an above garage ADU and a garage conversion ADU. The right one for you will depend on the size and shape of your garage and your plans for the new living space.
An above garage unit is usually built by adding a second story to an existing one-story garage. Above garage ADUs are typically built as a loft garage apartment style. It could also be built as a two-bedroom garage apartment or larger, depending on how big your existing garage is and if the above unit spans the entire garage. For example, if you have a three-car garage, your unit may be bigger than a unit built above a two-car garage.
A garage conversion uses existing space in the garage – or the entire garage – to build the living space. You may choose to build a three-car garage with living quarters that takes up two car spaces and leaves one space for your car. You may also decide to convert an entire one-car garage into a studio garage apartment. This type of apartment can allow you to build a one- or two-story unit.
An above garage ADU doesn't change the primary function of the garage – car and other storage – because that space is typically left alone. A garage conversion ADU will usually change the primary function of the garage as more, if not all, of the space is used for living.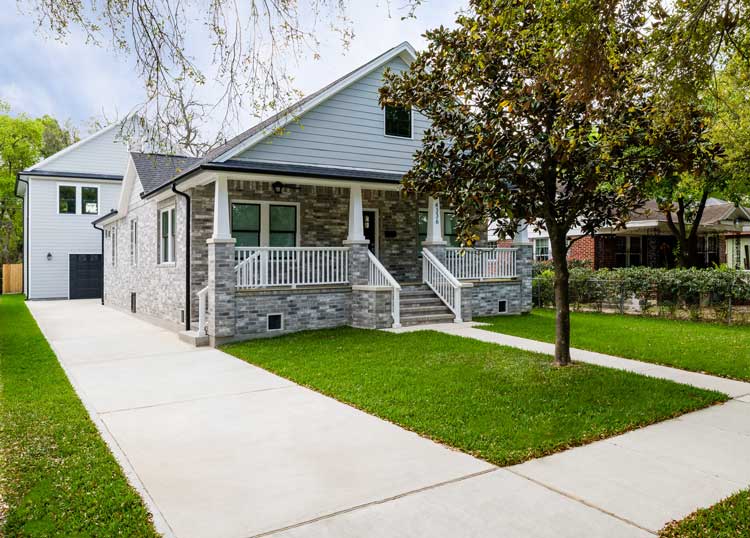 Sabo Custom Builders added an accessory dwelling unit, otherwise known as an ADU or garage apartment, above a 2-car garage at this home in East Downtown Houston.

Benefits of a Garage with an Apartment
There are many advantages to having a garage with living quarters. Here are some reasons to consider building one:
It can increase the value of your home.
It adds livable space to your property, increasing the square footage.
You can rent it out and make an extra income.
It can help you maintain work/life balance if you use it as a workspace.
If it's detached from the home, it can be saved from a house fire or vice versa.
If you purchased a plot of land but aren't ready to build your custom home just yet, start with a garage apartment and live there until you're financially and emotionally ready to build your dream home.
How to Build a Garage Apartment
It's important to keep in mind that building a garage apartment is much like building a home. While the foundation and some of the framework may be there, you'll likely need to construct everything else – from building additional framework and installing plumbing, electrical, heating and cooling to insulating the apartment, creating access points and adding design elements and finishes. Needless to say, it's no small project. That's why it's important to work with an experienced custom builder to make sure the design and construction of your new space is safe, up to code and fully meets your expectations and vision.
Because it's much like building a home, constructing a garage apartment will require the same building process. Here's what to expect when you work with Sabo Custom Builders.
Step 1: Determine the Type of Space You Want
Decide if you want an above garage unit or garage conversion, how many rooms you'd like and if the living space will include things like a bathroom and kitchen. This may depend on how you plan to use the space and the size of your garage.
We'll use our expertise to help you make this decision based on your garage, your budget, and your vision for the space.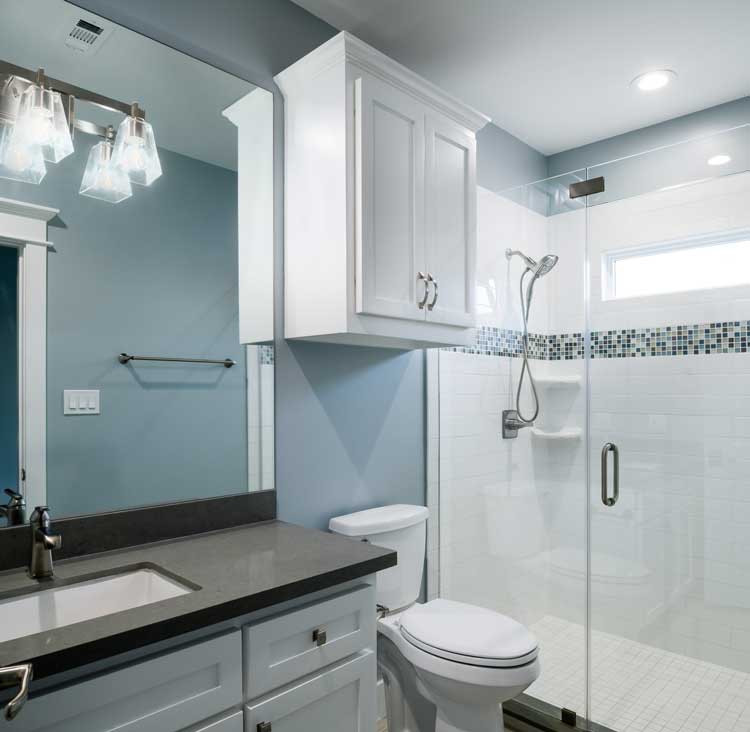 You can have a nice bathroom when building a garage apartment. This design included a three-quarter bath.

Step 2: Meet With Us
Once you have a general idea of what you want, you'll need to meet with us to talk about your goals, ideas, expectations and your budget. We'll also discuss the length of the project from start to finish. If you need more help deciding on the build, this can be especially beneficial because we can make recommendations based on the information you provide, including how much you want to spend, the size of your garage and what you're looking to do with the extra space. During this initial meeting, you'll also be able to see if we're the right fit for your project.
Step 3: Plan Your Build
During this step, you'll work with architectural and interior designers, engineers and other consultants to help you plan your design. We will work with our vendors, staff and other partners to start pricing the project. The builder will also use historical data, information from the design team and your input to help you create your garage apartment plan.
Garage Apartment Plans
One of the best things about working with a custom builder is that we not only know how to build a garage apartment, we also know how to custom build it to your needs and vision for the space. There are a number of plans you can make for your new space:
Your garage with living quarters can be a one-story or two-story unit.
You can have a staircase inside or outside of the unit.
Your living space can have a full kitchen and can come with stackable washers and dryers.
You can have a full bath.
For many units, you can choose to have separate utilities or connect to the main home.
If there is a garage below, you'll need to seal and separate the air from the garage below.
The interior finish can be luxurious or utilitarian.
A site plan will be necessary to determine where the unit will sit on the property. You'll also need the correct permits to begin your project, which we will have issued. Before beginning any work, you'll want to consider a few things that could cause issues for your build.
Zoning. Some area zoning laws may prohibit the creation of garage apartments, so make sure your area does. Houston does not have zoning. However, it does have ordinance codes that may dictate development, so review those.
Deed restrictions. You'll need to make sure your project complies with your neighborhood's deed restrictions, if there are any.
Easements. An easement gives a person or entity the legal right to access your property. Aerial or utility easements are two of the common easements that may cause issues with your build since your new unit cannot be too close to wires or other facilities nor can it block access specific utilities, like power lines or telephone lines.
Setbacks. A setback is the required distance your new unit must be from specific property lines.
ADU parking requirements. Depending on your jurisdiction, you may need to create an additional off-street parking space.
Sabo Custom Builders will help guide you through these considerations and other important decisions you need to make during this step.
Step 4: Build Your New Space
Once you sign the construction contract and the permits have been issued, the build will begin. A project manager will visit your build each day and provide daily communication. Our team will work with suppliers and sub-contractors to make sure the structure and each custom feature meet your expectations.
How Much Does it Cost To Build a Garage Apartment?
According to HomeAdvisor, the average cost to add living quarters to a garage is between $110 and $350 per square foot, or $60,000 – $270,000. Of course, the actual price will depend on your location, the number of rooms, the complexity of the design and whether you can hook up to the home's utilities or need to install separate utilities. You'll also want to consider the building materials you'll use, like steel and timber, and their current supply and demand, which may affect pricing.
Using Your New Garage With Living Quarters
Once you've built your new garage with living quarters, the possibilities are endless. Here are some of our favorite ways to use your new space.
Guesthouse
Kids playroom
Office or workspace
Business space
Dance or yoga studio
Workshop or shop
Headquarters for a new business
In-law suite
A place to escape
One of the most lucrative ways to use this new space is by renting it. When affordable housing demand rose during the Great Depression and throughout the 50s, garage apartments became popular in Houston neighborhoods, like Houston Heights and Montrose, where many still remain today. Affordable housing is still a need for Houston and surrounding areas, and with the popularity of Airbnb and the proximity to downtown, building a garage apartment for short-term or long-term rentals could provide additional income.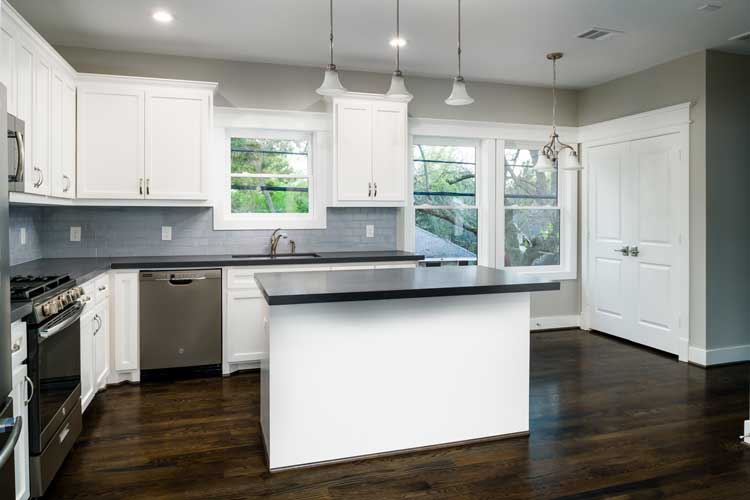 You'd never guess this was a garage apartment when you see a full kitchen like this!

Building Your Garage ADU with Sabo Custom Builders
If you live in the Houston area and are looking for a trusted, experienced builder to create your custom garage apartment, consider Sabo Custom Builders. We build in neighborhoods in the inner loop and west Houston. For more details, check out our specific list of where we build.
We've been in the business of making dream homes a reality for residents of Houston since 2009 and work with top architects and designers to ensure your build is top-quality. Throughout our simple and transparent process, we keep you well-informed on your project with our user-friendly client portal that allows you to access your documents, view the project's schedule and see progress pictures of your new build.
We're proud of the superior work we're done on all of our building projects, including custom homes, garage apartments and other living spaces, but we're most proud of the relationships we've built with our clients. Don't' just take our word for it. Read some of the experiences that our amazing clients have had working with us by checking out their reviews of Sabo Custom Builders.
When you're ready to add more space to your home, we're ready to build it for you. Contact us today to get started.