7 Reasons to Build a Custom Home
in Houston Heights
When you're trying to find the best suburb to build a custom home in Houston, choosing from the city's 88 different neighborhoods – each with its own personality – may seem a little daunting.
If you're looking for a charming area that's not too far from downtown, features several unique establishments, and has homes that burst with character, there's one neighborhood that ranks above the rest: Houston Heights.
You'll love living in a Houston Heights Custom Home
Built on an elevation 23 feet higher than the downtown area, Houston Heights was developed in the late 1800s as an escape from a crowded city that, at the time, was overwhelmed with yellow fever and experiencing destructive annual flooding. Today, residents can still enjoy the retreat from the city in a neighborhood that's full of life, plenty of living space, and strong community bonds.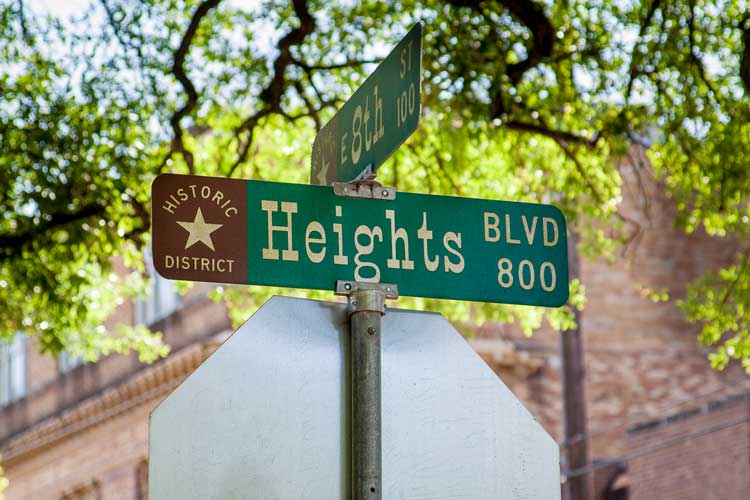 The Historic District of Houston Heights at Heights Boulevard and 8th Street

The neighborhood has a rich history that it works hard to preserve. You'll see it in the historic architecture of the homes and feel it in the hearts of its community members.
Also known simply as "The Heights," this area of Houston is often listed as one of the best places to live in the city. Here are seven reasons why Houston Heights is so popular and why you should choose it as the place to build on your lot.
1. Easy Access to Downtown Houston
Located in the inner loop, just four miles northwest of the heart of the city, Houston Heights residents are minutes away from the hustle and bustle of Downtown Houston. Even better, residents are able to get downtown without a car via the METRO public transportation system or Hike and Bike Trail, a concrete walking, biking, and skating trail that spans 4.6 miles.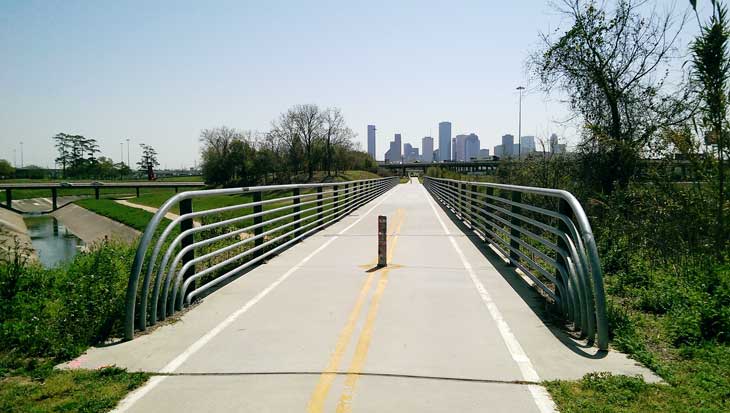 Market Trail coming from Houston Heights looking at downtown Houston in the distance.

2. Homes with Character and Growing Values
As one of Houston's first suburbs, The Heights is steeped in history with more than 100 structures listed on the National Register of Historic Places. Along the tree-lined streets, you'll find grand Victorian homes and bungalows restored to their original charm. With a Houston Heights custom home, you could add even more charm to the neighborhood – and feel confident building on your lot in an area where homes consistently appreciate in value.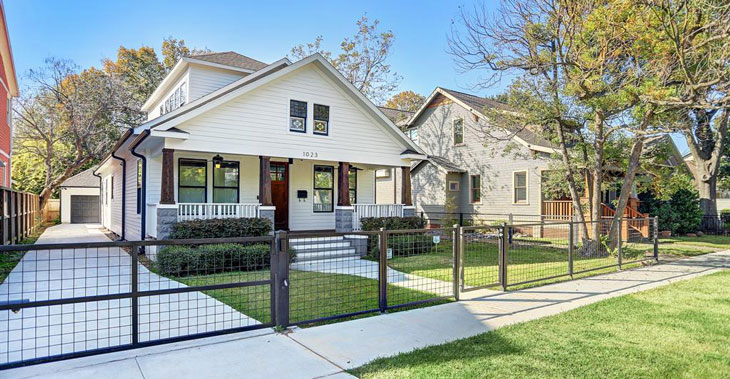 This one-hundred-year-old two-story duplex in Houston Heights was converted to a fabulous single-family home by Sabo Custom Builders.

3. Tight-Knit Community
When you build a home in Houston Heights, you're joining a supportive community that has an active event calendar, including spring concerts, blood drives, bicycle rallies, holiday home tours, and fun runs. The community also has a supplemental police force to protect and patrol the neighborhood and the Houston Heights Association (HHA), which works to preserve the neighborhood's history, address community needs, foster goodwill, and beautify, restore, and maintain the area's parks, streets, and other amenities.
4. Top Schools in a Large School District
Inside The Heights, you'll find some top-rated schools within the Houston Independent School District (HISD), one of the largest public school districts in the state. The elementary, middle, and high schools prepare students for success by offering immersion programs, extracurricular activities, early-high school credit courses, dual language programs, college prep, and AP courses, and International Baccalaureate programs.
5. An Eclectic Food Scene
When it comes to adding variety to your palate, Houston Heights' culinary collection can't be beaten. Known for its unique restaurant scene, Houston Heights is home to casual dining spots, upscale eateries, and food trucks serving local, national, and global cuisine. Houston Heights diners can find such unique menu items as antelope tenderloin, kimchi quesadillas, slow-cooked duck breast soup, and waffle burgers. And no neighborhood is complete without its own craft beer and specialty coffee establishments.
6. A Hot Spot for Shopping and Entertainment
Take a walk along the famous 19th Street and you'll find antique shops, boutiques, art galleries, thrift stores, lively bars, and live music venues, like The Heights Theater, one of Houston's oldest venues. The area also hosts special events which, in the past, have included White Linen Night, Third Thursdays Sip and Stroll, and First Saturday Arts Market.
7. A Hub for Young Professionals
With close proximity to downtown, plenty of restaurants and unique shops to frequent, and lively nightlife, The Heights has become a desirable location for young professionals who want the best of both worlds – the amenities of a city with all the space, quiet, and safety of the suburbs.
Finding a Houston Heights Home Builder
As the popularity of new construction in Houston grows, you may find there are several builders out there. When it comes to your choice of builders in Houston, it's important to work with a reputable company that is familiar with the Houston Heights area. Along with researching the company, meet with the builders, talk about your goals and your budget, review their other custom homes in Houston to get a better idea of their work, and go with the ones you like and trust and who can work within your budget.
Working with a Custom Home Builder
You'll work with your home builder from the planning stages to the completion of your home. The home-building process can take anywhere from six months to well over 24 months, depending on many factors, including the complexity and size of the build. Your builder will help you decide wants and needs, plan your budget, and set a reasonable timeline. You'll also work with design professionals who will help you customize the home. Once planning is complete, contracts are signed and permits are pulled, your builder will work with subcontractors and suppliers and check in on the build to move the process along to completion.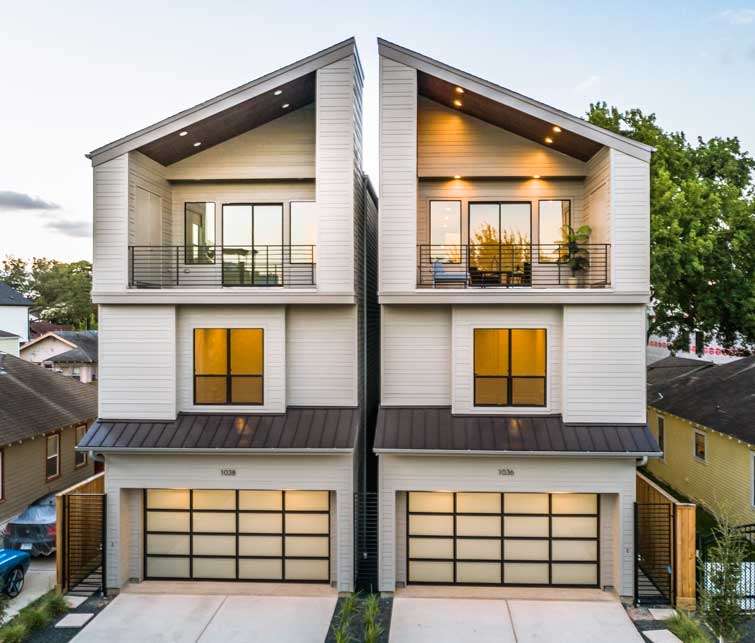 This home has first-level living featuring an open kitchen with quartz counters, Thermador appliances and eat-in island. The large master suite has a dry bar and treetop views leading to the ensuite bath featuring Carrera marble, standalone tub, separate shower and massive custom walk-in closet. See more details about this zero-lot-line home in Houston Heights.

Want to Build Your Home in Houston Heights?
Houston Heights provides many of the same amenities as a downtown area but features more living space, small-town charm, and a break from the hustle and bustle. And for those who want to visit downtown Houston frequently, it's only four miles away and accessible by car, public transportation, or walking trail. Those who love spending time in a busy city but wish to relax in peace and quiet at home can have the best of both worlds by moving to Houston Heights.
If The Heights sounds like the perfect place to build your custom home in Houston, we want to learn more about you and how we can help you put down roots in this great neighborhood. Contact Sabo Custom Builders to tell us your goals and get started on building your future home today. Located in Houston Heights, Sabo Custom Builders knows the area well and can help make top recommendations, offer advice and help you get to know the area better. Our owner, Ed Sabo, is even a resident of the neighborhood and knows you'll love the area just as much as he does. When you work with Sabo Custom Builders, you'll love where you live!