Braeswood Place is a popular suburb of Houston that consists of seven neighborhoods, each with quiet and charming, streets. There's a mix of older, ranch-style houses and custom homes on large lots. Along with unique subdivisions, spacious lots, and plenty of green space, the area has several features that make it an ideal place to build a new home.
6 Reasons To Build a Home in Braeswood Place
Braeswood Place has about 2,200 homes within its boundaries and more homes are being added to the count as more people realize the benefits of living in this Houston suburb. Here are five reasons to consider Braeswood Place as the area to buy land and build on your lot.
The Braeswood Place Homeowners Association
Chartered in 1951, the Braeswood Place Homeowners Association (BPHA) is an HOA with a mission to protect each subdivision's home values and promote a positive quality of life for its residents. The BPHA does this by enforcing deed restrictions and offering a plethora of amenities and services. Landscaping services help maintain curb appeal and yards pest-free, while a constable patrol provides supplemental neighborhood security and home watches while residents are on vacation. There are also block captains that help distribute a monthly newsletter, welcome new neighbors, and address resident concerns.
Access To The Texas Medical Center
Whatever subdivision you choose to build a home in Braeswood Place, you'll be only minutes away from the Medical Center neighborhood, home to the Texas Medical Center. Don't let the name fool you, the center is actually a medical district that spans 2.1 square miles and includes 13 teaching hospitals and the world's largest children's hospital and cancer hospital. Not only does the center provide access to all kinds of medical care – and more than 9,000 patient beds, it's also the 8th largest business district in the U.S., providing several job opportunities.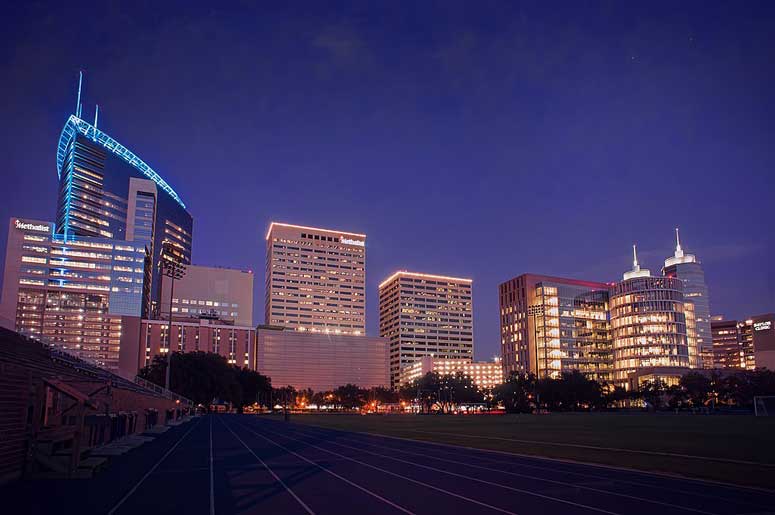 The Texas medical center

Proximity To Other Prime Locations
Along with having excellent amenities within its neighborhoods, Braeswood Place is also close to many other suburbs with plenty of things to do. Take a historic trolley ride or explore the outdoors at the Nature Discovery Center in Bellaire, just 3 miles from the area. In West University Place, you can visit Rice University, home to a Skyspace structure that displays a stunning, 40-minute light show at sunset.
Family Support
The BPHA hosts a Mother of Young Children Group that offers support and friendship for moms and their children. Along with monthly meetings, the group also has a babysitting co-op, playgroups, and mom's nights out. When the kids are older, they'll enjoy going to top-rated schools at one of the best school districts in the city.
Community Offerings
Braeswood Place has plenty of parks that have plenty of green space, tennis courts, playgrounds, and walking paths. There's also an area YMCA that features an outdoor pool, splash pad, and after-school programs. The 20,000-square-foot, McGovern–Stella Link Neighborhood Library provides a large inventory of books, comics, newspapers, and magazines. The library also hosts events for kids and teens, including seasonal readings, family movies, musical performances, and teen comic creation contests. Along with library events, the community also hosts fun events and celebrations for families, like a 4th of July parade and carnival.
The Brays Bayou Greenway
The area is close to the Brays Bayou Greenway Trail, which has more than 30 miles of green space and trails for hiking and biking. It also features Houston's largest pedestrian bridges and plenty of opportunities to see wildlife and catch views of downtown Houston.

Twilight Panorama of Bill Coats Bridge Over Brays Bayou - City of Houston Texas Medical Center

Custom Home Builders in Braeswood Place
When searching for the right company to build your custom home in Braeswood Place, you'll want to work with a builder that you trust. You'll want to make sure they have experience in the industry and local knowledge. Sabo Custom Builders has been building quality homes in Houston since 2009 and helps make the process feel less overwhelming.
Braeswood Place is one of the areas in Houston where we build custom homes and do major remodeling to update the area's older houses. Whether building or remodeling, our clients receive top-notch service that results in very positive client reviews.
Working With Sabo Custom Builders
Sabo Custom Builders will walk you through the entire building process, which is completed in three steps.
Step 1
The first step is meeting with owner Ed Sabo to talk about your build, the goals you have for your future home, your budget, and your timeline. You'll also learn more about our company, our philosophy, and why we may be the right fit for your project.
Step 2
The next step is planning your build, which will involve working with a team of designers, engineers, and energy consultants to write detailed project specifications. Working within your target budget, we'll make a proposal that's based on historical data, architectural and interior designer recommendations, and your input.
Step 3
Finally, after the building permits are issued, we'll build your home and you'll watch your vision come to life. A project manager will work closely on the project, visiting your job site daily and keeping you updated on the build. You'll also have access to a client portal, which will provide information on your selections and financial decisions, post progress photos and job logs, and allow you to communicate with the team daily.
Build Your Home in a Braeswood Place Neighborhood
Whichever Braeswood Place neighborhood you choose to build your new home – whether Ayrshire, Braes Oaks, Braes Manor, Braes Heights, Braes Terrace, Southern Oaks, and Emerald Forest – you'll love being part of a close-knit, involved community that offers support and safety and promotes the wellbeing of its residents.