Once an industrial area, previously referred to as Houston's Chinatown, East Of Downtown (EaDo) in Houston has undergone a revitalization in recent years. And with the area exuding so much character and potential, we're proud to have EADO be a place in Houston where we build. Here's why you should consider this neighborhood as the next place to call home.
Reasons to Build A Custom Home in EaDo
The area's growth has included several new buildings, homes, and transportation options along with more events and amenities popping up. There are always things to do in EaDo as well as places to go and ways to get there. Here's a glimpse into life in this little slice of Houston.
Living In EaDo Houston
EaDo is separated from downtown Houston by I-69, but the urban living feel is prevalent in the rejuvenated neighborhood, and the downtown amenities are just a few minutes away.
Major Development
New structures are going up all the time in EaDo, with developers investing hundreds of millions of dollars into the area. Along with new residences, the neighborhood has seen the construction of a new soccer stadium, mixed-use properties, an expansion in public transportation, and several commercial buildings. Along with these structures, you'll find diverse housing, including lofts, townhomes, single-family homes, and new, custom-built houses. A once-vacant neighborhood, EaDo is growing faster than many other neighborhoods in Houston.
Plenty of Transportation Options
EaDo is a very walkable neighborhood and is within walking distance from several neighborhoods of the downtown area and all of the various amenities they host.
In 2015, an EaDo stop was added to Houston's METRORail. From this stop, you can take the purple and green lines in either direction or transfer to the red line. The METRORail can take you all over Houston, including downtown, midtown, and the Museum District. METRO buses also run through the area. With available public transportation, it's even easier to get around downtown and to other areas like West University Place and Houston Heights.
For those who prefer to drive, EaDo sits along the Eastex Freeway (I-69) and Gulf Freeway (I-45), making for easy commuting to and from work and around Houston.
Proximity to Job Opportunities
EaDo is sandwiched between two of Houston's largest employment hubs: the Texas Medical Center (TMC) and the Houston Ship Channel. Less than 10 miles away is TMC, the 675–acre medical district that features the world's largest children's hospital and 13 different teaching hospitals.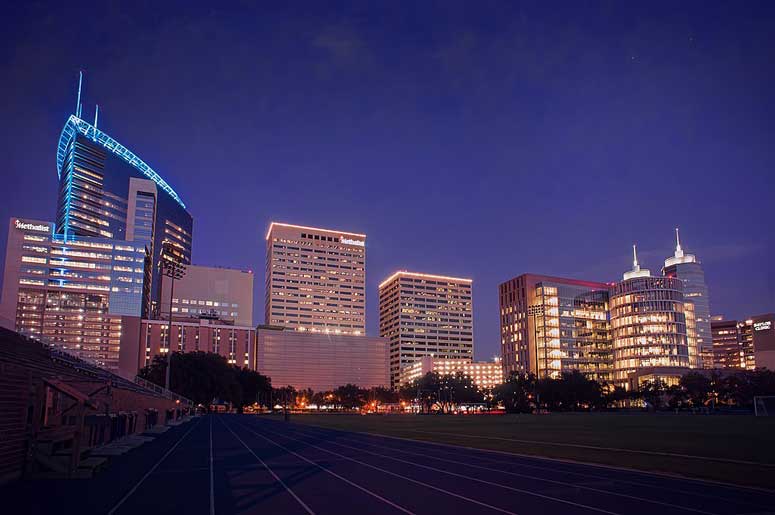 Texas Medical Center: A 675-acre medical district near EaDo

And 30 miles away, the Houston Ship Channel, part of one of the world's busiest seaports. Along with these two job centers, there are plenty of other nearby areas that offer job opportunities. The Energy Corridor is home to some of the largest energy companies in the world and the Memorial Area hosts Memorial City Mall, the largest shopping mall in Houston.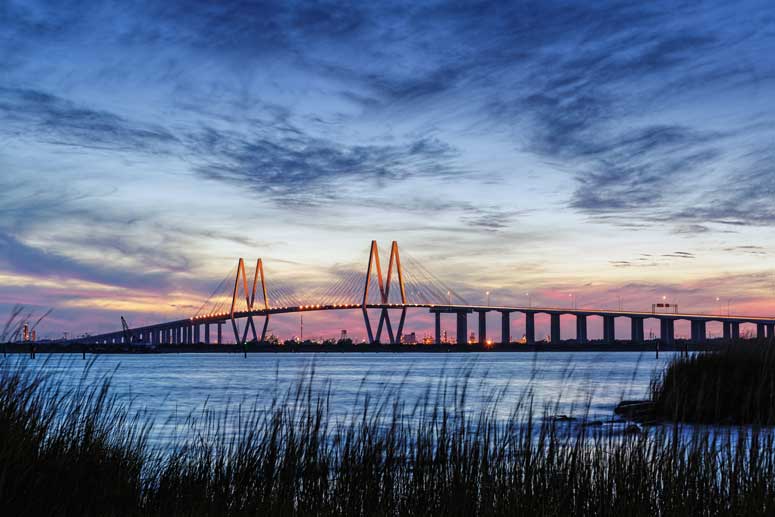 Fred Hartman Bridge spanning the Houston Ship Channel. The bridge carries 2.6 miles (4.2 km) of State Highway 146 (SH 146), between the cities of Baytown and La Porte (east of Houston).

Things To Do In EaDo Houston
EaDo is called the "Art and Soul of the City" and that's reflected in the many things to do in the area.
See Live Acts
There are numerous places in EaDo to enjoy live entertainment of all sorts. Warehouse Live, a popular, general-admission concert venue, hosts several live acts during the week, including live music and cabarets. The Secret Group is a unique spot where you can catch stand–up comedy shows or participate in a comedy open mic night. The neighborhood is also less than 2 miles from House of Blues Houston and the city's Theater District.
Check Out Local Art
There's much to see in EaDo, including plenty of local art. A favorite spot is Graffiti Park, where painted murals and graffiti art cover the sides of dozens of buildings. Another outdoor display, David Adickes' famous, 36-foot Beatles statues, is hard to miss. Art lovers can also view masterpieces indoors at the Museum of Fine Arts, Houston, or shop reused, handmade pieces by local artists at the Texas Art Asylum.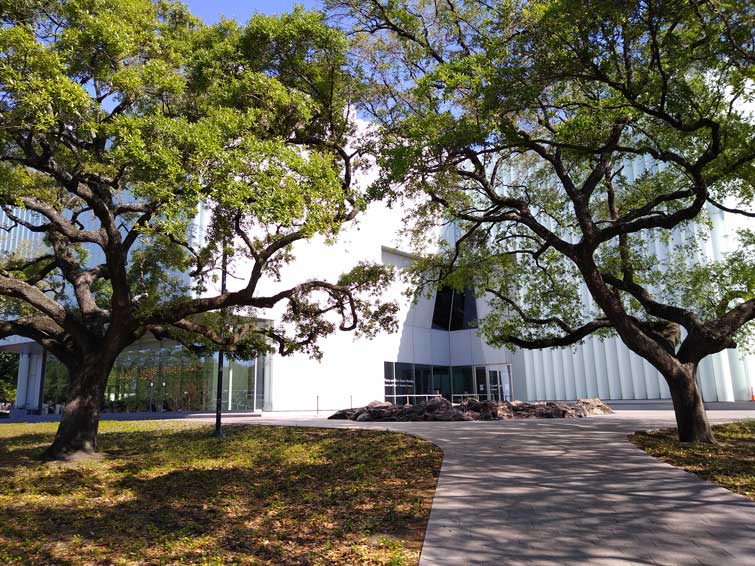 Nancy and Rich Kinder Building at The Museum of Fine Arts, Houston

Catch a Game
Sports fans will love being close to some of the biggest games in Houston. When you live in EaDo, you'll be within walking distance of Minute Maid Park, home of the Houston Astros, the Toyota Center, where the Rockets play, and the PNC Stadium, where you can watch a Dynamo soccer game. And because the neighborhood is so close to all these stadiums, EaDo is also a hotspot for getting together before a game, which brings us to the next thing to love about the area.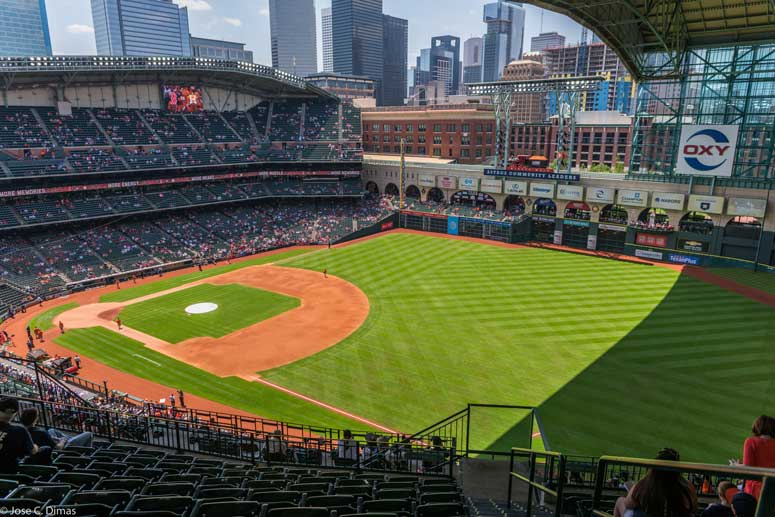 Minute Maid Park

Drink and Dine
EaDo is packed with breweries, cafes, and restaurants. Its culturally diverse food scene includes Vietnamese fare, poke, tacos, crawfish boils, and comfort food. The EaDo bar scene includes a mix of fancy and relaxed places to drink, like neighborhood bars, wine bars, rooftop lounges, and cocktail bars. Other drinking establishments, like 8th Wonder Brewery & Distillery, host live music. At Pitch 25, you can play foosball or shuffleboard and at Neil's Bahr, you can enjoy arcade games, video games, and karaoke depending on the day. A popular place to go for food, drinks, and fun is the self-proclaimed "adult playground," the Truck Yard. The open-air food truck park and beer garden features an onsite Ferris wheel, karaoke room, and Skee-Ball machines.
Attend an Event
There are events all around the area, but two places stand out for hosting tons of happenings throughout the year. Discovery Green Park, Houston's 12-acre urban park, has fitness classes, movies in the park, dance parties, ice skating, open-air markets, and immersive art experiences. The George R. Brown Convention Center is a 1.8-million-square-foot event center that hosts conferences, expos, and shows.
Sabo Custom Builders Is Your EaDo Home Builder
When you've decided that EaDo is the place to build on your lot, you'll want to work with a builder who has experience and is one you trust. Since 2009, Sabo Custom Builders has taken a personal approach to the building process, whether constructing custom homes or completing major remodels. And since we know the Houston area, we can help you learn more about EaDo and make recommendations based on our experience and local knowledge.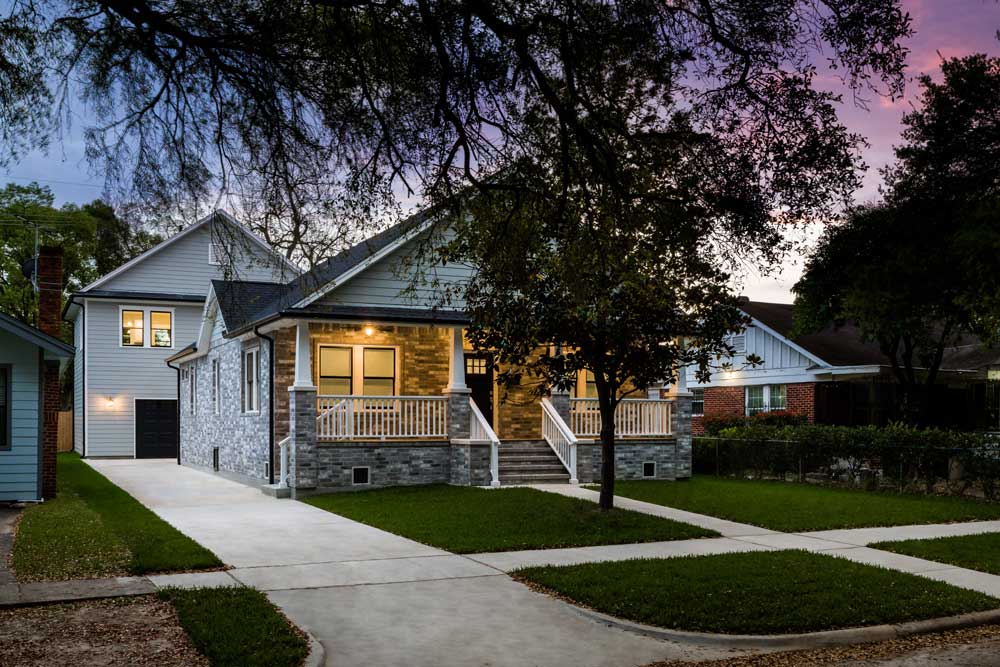 This custom-built brick bungalow has a fantastic garage apartment. It has wood windows, hardwood floors throughout, custom cabinets and millwork. See more about this custom home in the East of Downtown Houston neighborhood.

Working With Us
When you work with Sabo Custom Builders, your home build will be completed with our three-step building process. Here's what you can expect with each step.
Step 1: Meet Sabo Custom Builders
In this first step, you'll meet with owner Ed Sabo to talk about your project. You'll discuss the location of your build, your budget expectations, and your timeframe. You'll also learn more about our philosophy and the benefits of working with us. The goal of this step is to ensure both parties are the right fit for your project.
Step 2: Plan Your Custom Home Build
During planning, we'll work with architectural designers, engineers, energy consultants, and other third-party vendors to ensure your home is structurally sound, well-designed, and meets your target budget. During this time, you'll continue to work with Ed and also a project manager.
Step 3: Build Your New Home
In the final step, all of the hard work will pay off as your custom home is built. During this step, your project manager will perform daily job site visits and keep you updated on the build until it is finished and you do a final walk-through of your new home.
When it comes to a successful build that's on time and within your budget, communication is key. Throughout the process, you'll be able to view your selections, make upgrades and ask questions through our client portal. You'll also have access to schedules, photo updates, job logs, and your documents as we complete the project.
Choose EaDo as the Place To Build Your Custom Home
There's a lot of revitalization happening in EaDo and you can be part of it. If it sounds like the right Houston neighborhood for you to build your new home, we're here to help. Contact us today to get started. And check out our client reviews to learn more about what it's like to work with us.