Bellaire's tree-lined streets include bungalow houses, luxury properties, and custom homes that sit on spacious lots. A strong community with a focus on family, Bellaire has top-rated schools and plenty of opportunities to meet the neighbors. Along with things to do around town with family and friends, the area may have some great job opportunities. Bellaire has property zoned for light industrial, commercial, and mixed-use residential and commercial uses, including some high-rise office buildings along Interstate 610. It's home to the greater Southwest Houston Chamber of Commerce and AT&T's Houston Corporate Offices.
For work, play, and everything life brings in between, the city of Bellaire could be just the place to build your dream home.
Reasons To Build Your Home In Bellaire
Of the many places to build a custom home in Houston, Bellaire can be a great option. From community events to an abundance of parks and playgrounds, here are a few reasons why you may want to consider this area to put down roots.
Annual Events
The city puts on several, fun and wholesome community events every year, including a daddy-daughter dance, wine, and tapas event, 4th of July parade and festival, and a 5k run known as the "Bellaire Trolley Run." For 12 years, the city has hosted "Tents in Town," an urban camping experience in which residents camp out on the Great Lawn in Bellaire's Town Square. The event includes face painting, giant inflatables, dinner, breakfast, and, of course, s'mores.
The city celebrates Halloween with The Great Pumpkin Hunt, where residents dress up in their costumes, listen to music, play games, and hunt for prizes inside pumpkins. During the holidays, Bellaire hosts a Holiday in the Park event that includes snow slides, petting zoos, local choirs, and pictures with Santa.
Along with annual events, there are also other events throughout the year, which have included free concerts at the pavilion, picnics at the park, and movies at the pool.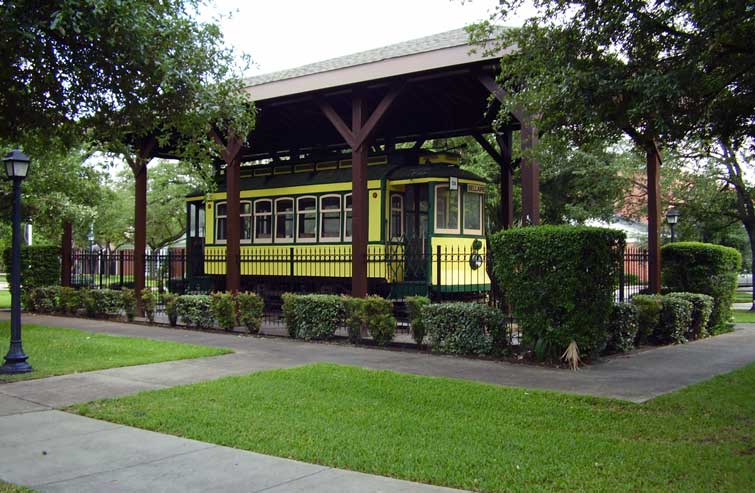 Historic streetcar located within Paseo Park in Bellaire, Texas

Transportation
In 1910, a streetcar line known as the "Toonerville Trolley" began transferring Bellaire residents to Houston's Main Street. While the historic streetcar went out of commission in the late 20s, you can still catch a glimpse of history at Paseo Park, in Bellaire. There, you'll find the yellow and green streetcar sitting on tracks beneath a pavilion. Once an important connection between Bellaire and Houston, the trolley played a big role in the development of the city. Today, Bellaire is a member city of the Metropolitan Transit Authority of Harris County, Texas (METRO) and The Bellaire Transit Center has six lines, including the 402 Bellaire Quickline.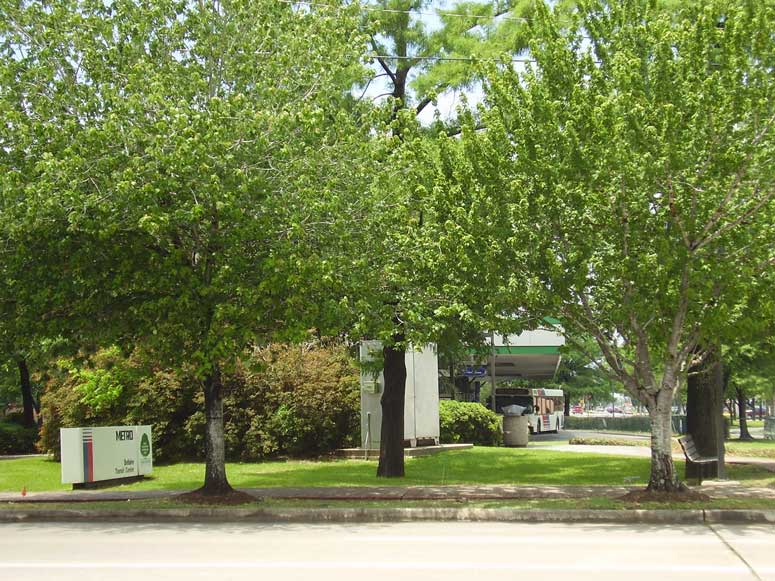 The Bellaire Transit Center, located at 5100 Bellaire Boulevard at South Rice Avenue, has six lines.

Support for Parents
Bellaire Parks and Recreation has an abundance of events just for kids, so parents can get a break while their children have a blast. In the winter and summer, children aged 5 – 12 can attend all-day camp, which may include such activities as yoga, dance, arts and crafts, swimming, and sports games. In the summer, there are one-week specialty camps available for kids interested in theater and arts and crafts.
Parents can kick off their weekend by sending their first through sixth-graders to Friday Nite Live, a themed, kid's night out with a live DJ, concessions, and games. The event is hosted every Friday night and past themes have included Sugar Rush, Pirate's Night, and Winter Wonderland.
There are also a ton of youth programs, including language, sewing, and dance classes, youth sports, karate, and theater.
Places to Play
There are 14 different parks in Bellaire, featuring open green spaces, playgrounds, trails, sports fields, picnic shelters, and dog parks. Indoor activities can be found at the recreation center, which features a fitness room and gymnasium. There's also a civic center and community center with meeting rooms, an auditorium, and banquet rooms available for rent.
Adults can expand their talents and expend their energy in one of many adult programs including community sports, fitness and yoga classes, karate, outdoor Zumba, and sewing or Spanish classes.
Water lovers can head over to the Bellaire Aquatic Center, which features a large pool with lap lanes and diving boards, a therapy pool, and a kiddie pool with a play structure.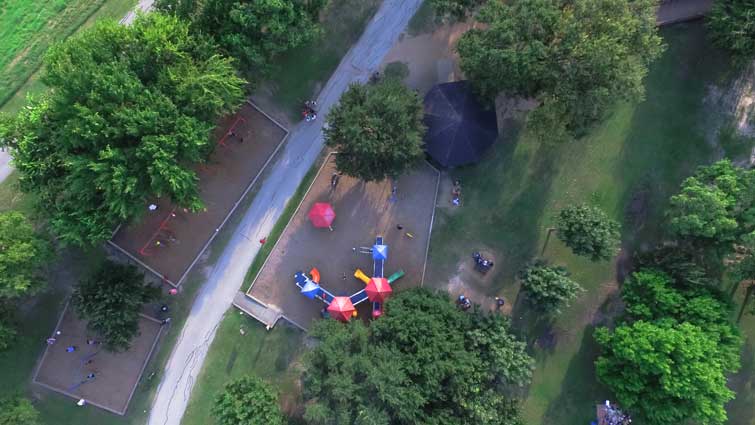 Aerial view of Bellaire Park

Artistic Encouragement
Artists are encouraged to share their talents with the community and are given multiple chances to do so. The Bellaire Culture and Arts Board hosts an Arts and Crafts Festival, where local artists and artisans display and sell fine art, jewelry, woodwork, textiles, and ceramics. Painters also have the chance to show off their work on a Bellaire fire hydrant through the Fire Hydrant Painting program and photographers can submit their work for the city calendar.
Artists looking for inspiration can find it less than 10 miles away in East of Downtown (EADO). The neighborhood is rich in local art with buildings covered in painted murals and graffiti art and 36-foot Beatles statues overlooking the streets. It's also home to the Museum of Fine Arts, Houston.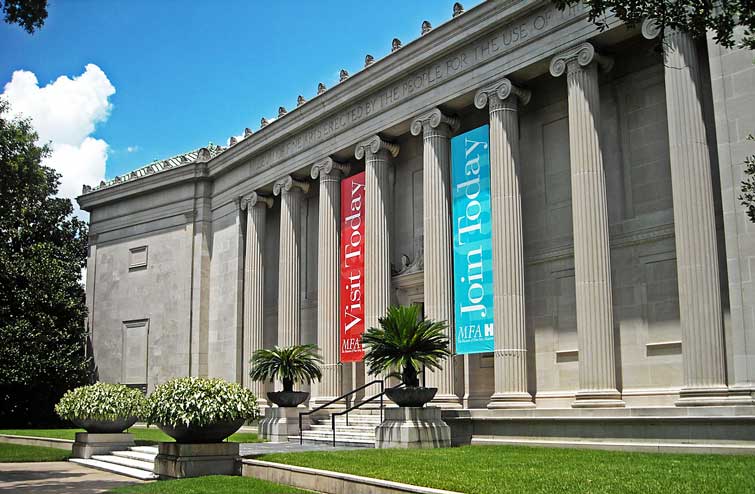 The Caroline Wiess Law Building of the Museum of Fine Arts, Houston. Located just 10 miles from Bellaire.

Citizens Academy
Long-time residents and those new to the area can join the Bellaire Citizens Academy (BCA), an eight-week program that teaches locals about the city, its history, and how it functions. They'll meet with city staff, learn about safety, utilities, and funding and have the opportunity to serve the community.
Dining, Shopping, and Entertainment
Bellaire offers small-town living with access to bustling big city life, as it's less than 10 miles from downtown Houston. The downtown area is home to several Fortune 500 companies, theaters, urban parks, and sports stadiums. Bellaire is also close to other Houston suburbs that offer something special. Houston Heights features the famous 19th Street, where you'll find tons of boutiques, thrift stores, and art galleries. West University Place is home to Rice University, which hosts an arboretum, public art installations, and a free, public light show during sunrise and sunset. Spring Branch, about 10 minutes away, has a food scene that's been influenced by the influx of immigrants coming into the area in the 1960s. There, you'll find Polish, Greek, and Korean dishes, among others.
Of course, you can also stay close to home to enjoy the many tastes the restaurants in Bellaire have to offer, including Spanish, Cuban, and South African meals.
With so much to enjoy in and around Bellaire, it's easy to see why many people are choosing the town to build their next home. If you think the area is right for you, here's what to expect with your build.
Building a Custom Home in Bellaire, Texas
Building a custom home can be one of life's most rewarding adventures. A house is more than just bricks and mortar. It's more than a beautiful structure with bedrooms, bathrooms, and garages. It's an intimate living space that speaks to the very heart of who you are. It's not just a house—it's a home.
To have the best possible experience with creating your dream home, there are things you need to know before building a custom home – from preparing for the house construction costs to learning the building process to knowing how to choose the right builder for your project. New construction in Houston has grown in popularity and there are several custom home builders in Bellaire. However, finding the right one for your project shouldn't be stressful.
The most important thing is that you choose a builder that has a depth of experience, local knowledge, and is one you trust. You should like your builder too. You'll be working together for many months, sometimes up to a year or two. So, if you've wondered whether it matters whether you like your builder, the answer is yes, it matters. Don't sign a contract with a builder you don't like, trust, or respect. If you do, you could be headed for trouble.
Working with Sabo Custom Builders
Sabo Custom Builders has taken a personal approach in the business of building custom homes in Houston since 2009 and Bellaire is one of the places where we build.
When you work with Sabo Custom Builders, you'll go through a three-step home–building process.
Step 1 - Meet
The first step begins with meeting owner, Ed Sabo, to talk about your vision, expectations, budget, and timeframe. You'll also learn more about our company, our philosophy, and why we may be the right fit for your project.
Step 2 - Plan
The next step, the planning phase, is when we plan your design and price your project. We'll work with architects, interior designers, engineers, and other third-party vendors to ensure an energy-efficient home that is structurally sound, well-designed, and meets your target budget. Using your input along with historical data and recommendations from our building-performance specialist, we'll also make sure the plans produce an energy-efficient home. During this time, you'll continue to work with Ed Sabo and a project manager.
Step 3 - Build
In the final step, all of the hard work will pay off as your custom home is built. During this step, your project manager will perform daily job site visits and keep you updated on the build until it is finished and you do a final walk-through of your new home.
When it comes to a successful build that's on time and within your budget, communication is key. That is why we use a unique client portal where you can review progress photos, check job logs and schedules, make financial decisions, upload documents, and send messages. You'll be able to view your selections, make upgrades, and easily communicate with the team – from anywhere at any time.
To get an even better idea of what it's like to build your home with Sabo Custom Builders, read our client reviews from folks who are now the proud owners of their dream homes.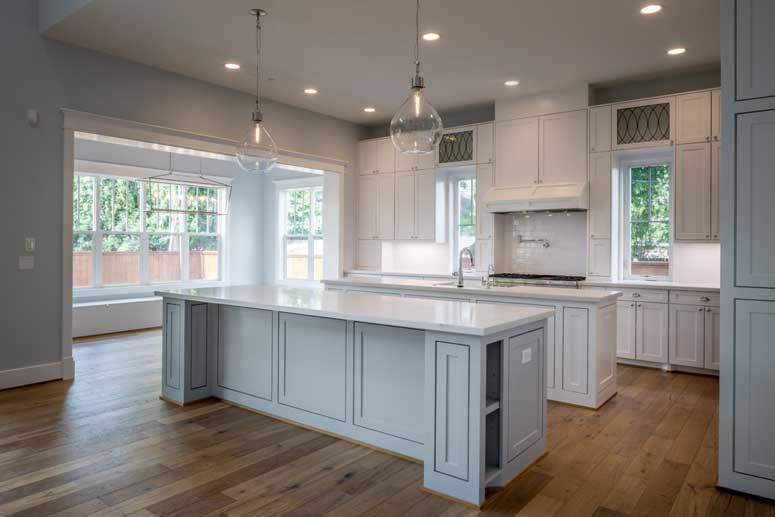 This custom home in Bellaire has over 4500 sq feet and was built by Sabo Custom Builders. It has a double island chef's kitchen that is great for entertaining. A luxurious owner's suite has marble floors and countertops, and a large shower with a clawfoot soaker tub. This was built on the site of the owner's childhood home. See more images of this home.


Love Where You Live
We want you to love where you live and we think you'll love living in a custom home in Bellaire. If you're ready to build your new home, contact Sabo Custom Builders.
If you already have a home in Bellaire, we can help you love your home even more. Along with building custom homes, we offer major remodeling, also known as a "gut remodel." It may include rearranging the floor plan, adding an extension to the home, or going down to the studs and changing everything.
Those looking to add more living space without adding it to their home may benefit from a garage apartment, also known as an Accessory Dwelling Unit (ADU). This secondary housing unit is built above or attached to the property's garage. Our work extends to building these units for Houston homeowners as well.