Independence Heights is a super neighborhood located in northwest Houston with a deep history and sense of community that the area is known for. The neighborhood features a variety of homes, from traditional and contemporary houses, historical homes, and new construction properties. It also has a range of home prices, with more affordable options than other areas of Houston. While Independence Heights has grown in popularity, it still maintains its small-town vibe, with residents and community leaders working together to uphold everything that makes this area so special while also improving the community for future generations.
Reasons to Build a Home in Independence Heights
Those who live in Independence Heights take pride in the area's history and work hard to protect it. It's one of the many things to love and respect about the area. Here's why you'll want to call Independence Heights home and work with other community members to preserve its past while being a part of its bright future.
Rich History
Independence Heights was the first municipality in Texas to be incorporated by African Americans and is listed on the National Register of Historic Places.
In 1910, The Wright Land Company developed the community for African Americans, with many local contractors building the first properties, small wood-frame homes. With education and faith at the foundation of the community, several churches and the Independence Heights school were built within the year. By 1915 the settlement had more than 400 people and was incorporated as a Texas city – completely owned and run by African Americans. By 1928, the city had 40 Black-owned businesses, including restaurants, grocery stores, law offices, and a lumber company. In 1929, the city was dissolved and annexed by Houston, but memories of the past are still very much alive in the area.
This rich history runs deep in the identity of Independence Heights and provides a glimpse into the lives and experiences of African Americans in the early 1900s. It's important to community members that its history stays in the present and remains a part of its identity. Independence Heights leaders call on old and new residents to come together to build upon the community while finding ways to stay true to its historical identity.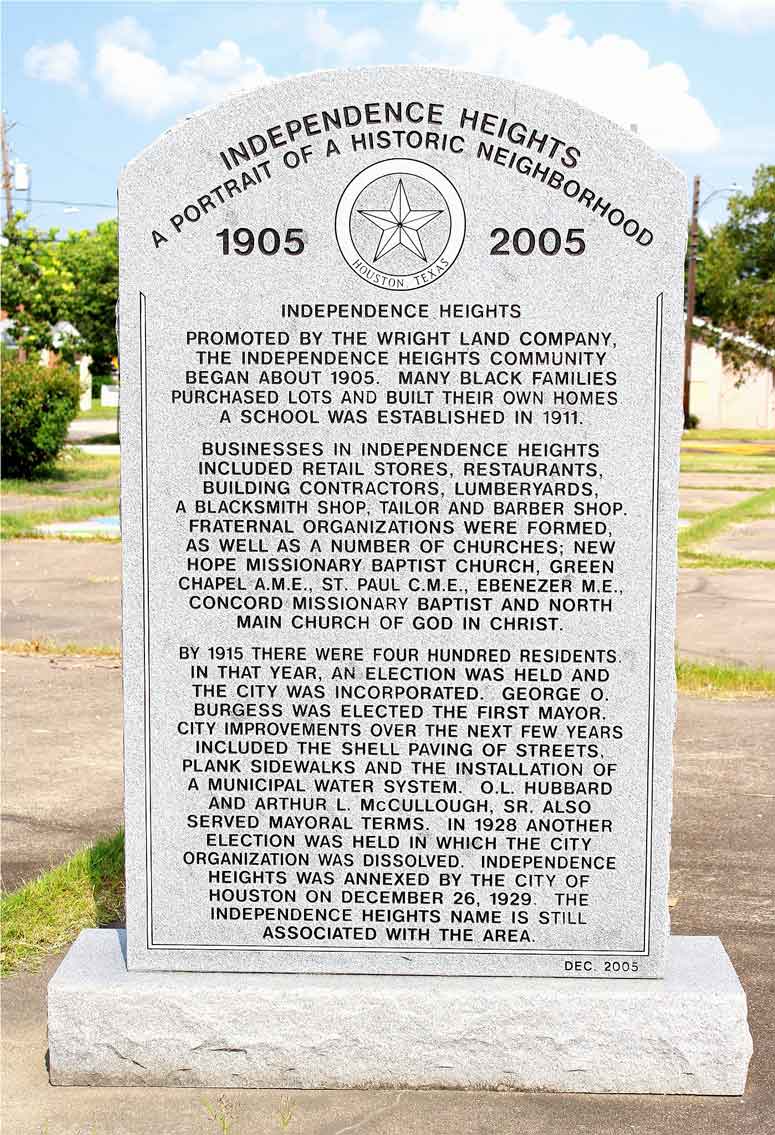 Close-Knit Community
Many Independence Heights residents are bonded by this rich history, having lived their whole lives in Independence Heights, their roots entwined with one another. Many people who live there have parents, grandparents, and great-grandparents who lived there. Some residents are even descendants of original settlers. Community members grew up together and know each other's families. Several of the locally-owned businesses are family-owned and have been for decades, with business owners carrying on the legacies of their parents and grandparents.
The area even has its own nonprofit organization with a mission to serve the community and improve the quality of life for residents. The Independence Heights Redevelopment Council empowers neighbors to help change the area for the better. It develops community activities, supports local organizations, and helps grow the area through affordable housing, health services, public safety, and recreation. It also works to protect the history of the neighborhood.
Residents of Independence Heights work together on a number of different projects to preserve the diversity and vibrancy of the area and ensure neighbors feel at home. Such projects include hosting emergency preparedness classes, performing senior home and historic home repairs, revitalizing houses damaged by natural disasters, and advocating for fair and equal treatment of fellow residents.
Proximity to Jobs and Shopping
Independence Heights is just over 10 miles from Texas Medical Center (TMC), the largest medical city in the world and the 8th largest business district in the U.S., with several hospitals and medical schools offering plenty of job opportunities. About 20 miles away is The Energy Corridor, home to some of the world's largest energy companies and their headquarters.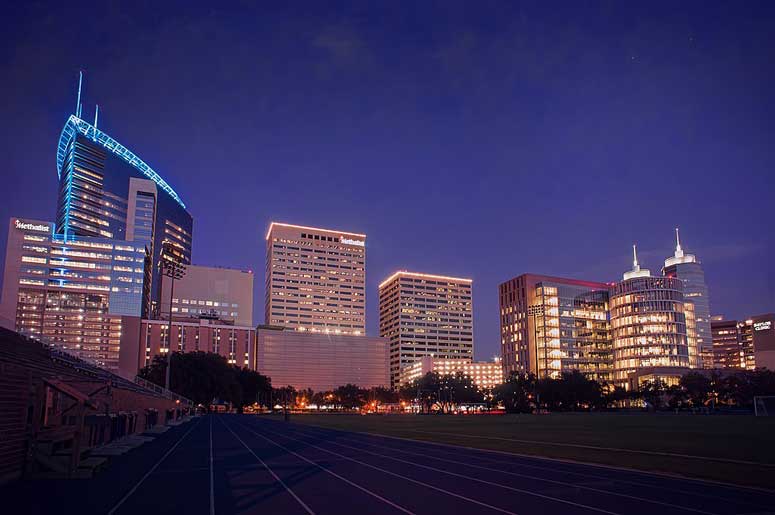 Texas Medical Center (TMC), the largest medical city in the world, is at the forefront of advancing life sciences.

There are plenty of opportunities to spend that hard-earned money, too, both in and around Independence Heights. There are several grocery stores in the area, including a Whole Foods that was built in 2018, and the Houston Farmers Market is less than two miles away. At the city's largest farmers market, you'll find fresh produce, coffee, flowers, and other goods from local vendors. For clothing and other merchandise, head over to Houston Heights – also two miles away – and shop the boutiques, antique stores, and thrift shops on the famous 19th Street. A little over 10 miles away, you'll find Rice Village, a 16-block shopping district near West University Place. And just a few miles from Rice Village is Texas' largest shopping mall, Galleria Mall, with more than 300 stores and two hotels.
With easy access to the 610 Loop and I-45, residents can easily commute to work, shopping, and entertainment both downtown and in several Houston suburbs.
Varied Dining Options
Independence Heights diners can enjoy some of the most flavorful dishes in Houston at some of the area's best – and historic – restaurants. At Esther's Cajun Café and Soul Food, you'll find hearty Southern food and Cajun-style meals that include smothered pork chops, chicken and dumplings, and crawfish etouffee. At one of Independence Heights' oldest establishments, Barbecue Inn, you can order Southern fried chicken, beef brisket, St. Louis-style ribs, and other traditional barbecue entrees. For good old-fashioned burgers, check out Miller's Café or catch a game, wings, and a beer at Brewingz. The diverse dining options also include Greek food at Simos Diner and Mexican cuisine at Taqueria El Tapatio.
Outside of the area, you can find more cultural cuisines. The food scene in Spring Branch is influenced by the influx of immigrants the area saw in the 60s and includes Thai, Korean, Polish, and Greek dishes. Meanwhile, in East of Downtown (EaDo), you can sample eclectic cuisine like poke, crawfish boils, and Vietnamese food. There are several breweries, wine bars, and even an open-air food truck park.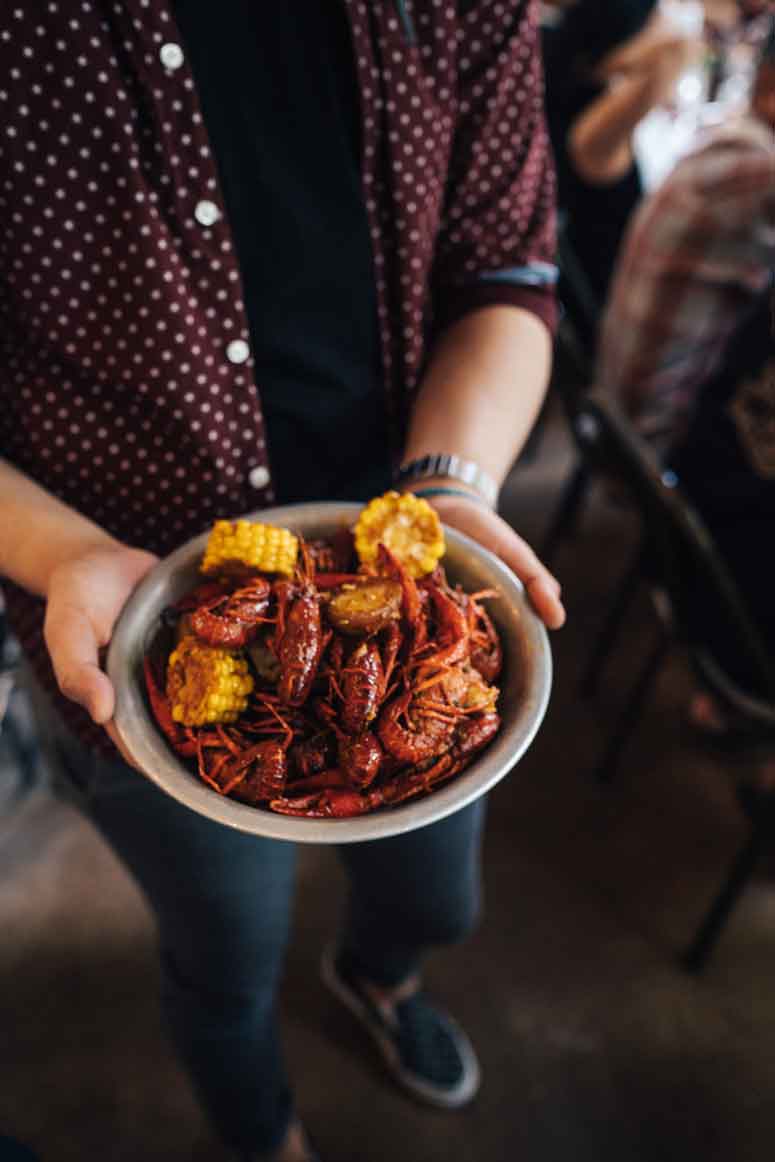 Enjoy a Houston crawfish boil

Building a Home in Independence Heights
To ensure you enjoy your building experience, there are things you need to know before jumping into the process. Knowing information like house construction costs, potential issues you could encounter, and other home-building secrets could help save you money and avoid stress and ensure you're making informed decisions.
Of course, choosing the right builder is one of the most important things you can do to ensure the best experience building your home. Not only will a good builder have local knowledge and experience, but they'll also be someone you enjoy working with and can trust. Building a custom home can take anywhere from 6 months to more than 24 months depending on the size and complexity of the project, so it's important that you like your builder.
Custom Home Builders in Independence Heights
At Sabo Custom Builders, we don't just build homes; we also build relationships with our clients. Check out their reviews to learn more about the personal approach we take with the builds we do and the quality service we provide. We've been in the business of building homes since 2009 and Independence Heights is one of the places where we build.
To create your dream home, we'll take you through a three-step, home building process.
Step 1 - Meet
First, you'll meet with owner, Ed Sabo, to talk about your vision, expectations, budget, and timeline. You'll also learn more about our company, our philosophy, and why we may be the right fit for your project.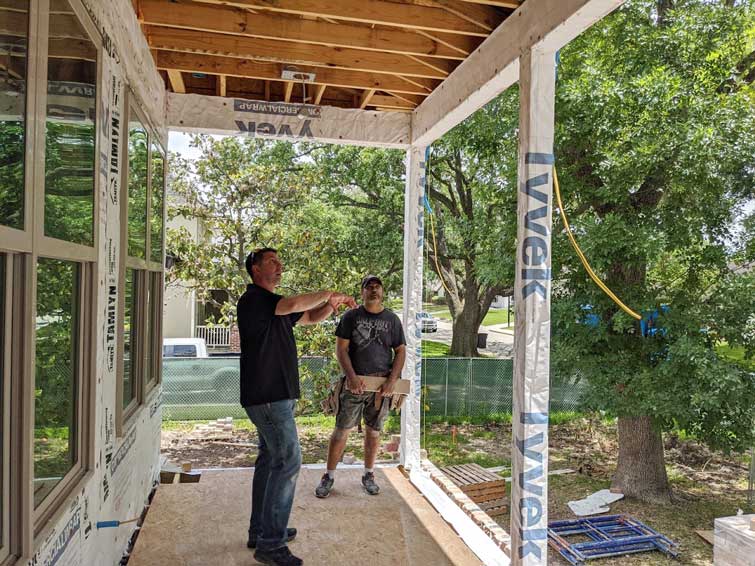 Ed Sabo (left) overseeing a new home build.

Step 2 - Plan
The second step is the planning phase, when we plan your design and price your project. We'll work with architects, interior designers, engineers, and other third-party vendors to build an energy-efficient home that is structurally sound and well-designed to meet your budget. During planning, we'll use historical data, recommendations from our building performance specialist, and your own input to create the right build for your lifestyle. During this time, you'll continue to work with Ed Sabo and also a project manager.
Step 3 - Build
In the third and final step, your custom home is built. As your home is being built, our project manager will perform daily job site visits and provide you updates until the home is finished and you do a final walk-through.
Communication is important when it comes to getting your project done on time and within your budget. Our unique client portal allows you to review progress photos, check job logs and schedules, make financial decisions, upload documents, and send messages. No matter where you are or what time it is, you'll be able to view your selections, make upgrades, and easily communicate with the team.
Working with Sabo Custom Homes
Whether building new homes, adding a garage apartment, or working on major remodels, we have the experience to create your dream home and the local knowledge to make recommendations regarding the local area.
We want you to love where you live and we think you'll love living in a custom home in Independence Heights, Houston. If you're ready to build your new home, contact Sabo Custom Builders.