Texas Medical Center, ranking as the 8th largest business district in the U.S., is a south-central Houston neighborhood that's also the largest medical city in the world. With multiple hospitals and medical schools on its campus, the area has an abundance of job opportunities in healthcare and education.
Not only is it a great place to work, but it's also a great place to live. The 2.1-square-mile area has a diverse mix of homes, including apartments and condos, townhomes, updated and custom-built single-family properties, and luxury homes in gated communities. With plenty to do and see within the area and in nearby neighborhoods, Texas Medical Center (TMC) may be the ideal neighborhood for you to build your custom home.
Why Build Your Home in Houston's Medical Center Neighborhood
Medical Center is a great spot for young professionals or those looking to raise a family, enjoy outdoor activities, or have access to quality medical care and educational opportunities, both in school and throughout the neighborhood. Here are some reasons you'll love living in TMC.
Texas Medical Center Hospitals and Schools
When your neighborhood has "medical" in its name, you should expect access to premium healthcare and that's what you'll get. Texas Medical Center hospitals are some of the best and largest in the world – and they'll be right at your doorstep. Within the medical community, there are 9,200 patient beds and more than 106,000 employees ready to care for your needs.
The area is also home to fourteen medical schools, including Baylor College of Medicine and Texas A&M College of Medicine. But higher education isn't the only place TMC excels when it comes to schooling. The area is filled with top-rated K-12 schools, many ranked some of the best in Texas. The area even has a Blue Ribbon School, Carnegie Vanguard High School, which has been recognized as an outstanding public school.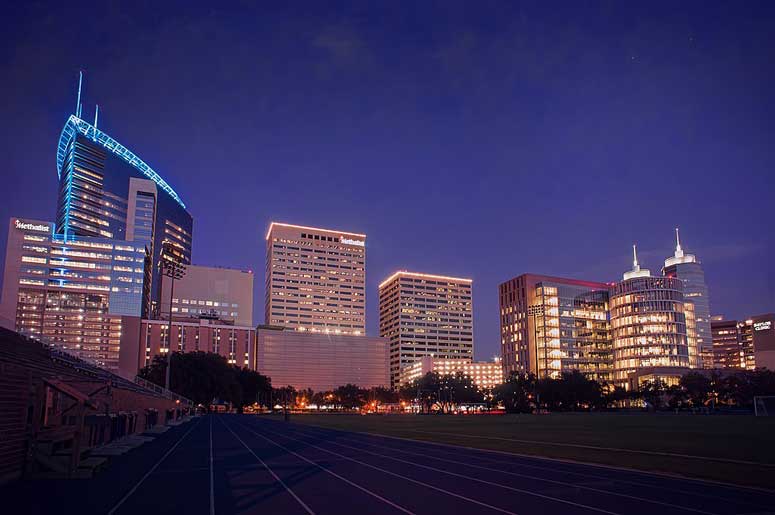 Texas Medical Center is the 8th largest business district in the U.S. and the largest medical city in the world

Learning Opportunities Abound
Outside of school, kids and adults have plenty of opportunities to learn new things from one of the many amenities in and around the area. The medical schools in the community often host thousands of educational seminars throughout the year. And, just blocks away is the Houston Zoo a 55-acre zoo that's home to over 6,000 animals and more than 15 exhibits. The zoo features a bug house and petting zoo, along with an elephant habitat and African Forest. It also hosts one of the largest collections of birds in the U.S.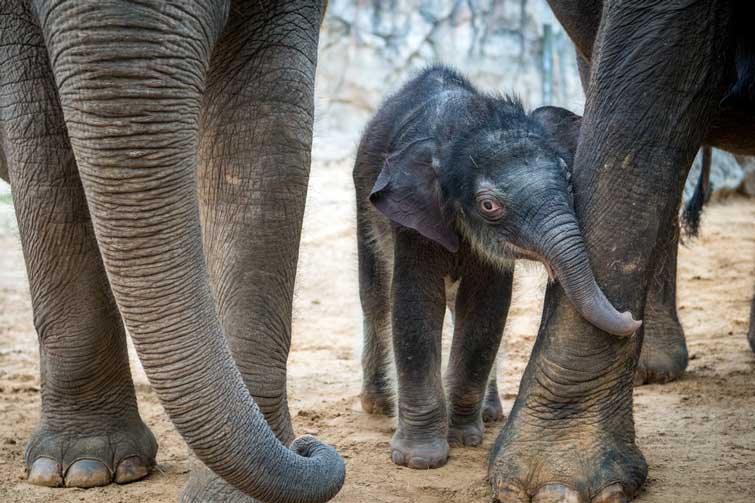 The elephants are popular at the Houston Zoo

The zoo is sandwiched between TMC and the Museum District, which boasts 20 different museums. The Museum of Natural Science has a hall of gems, a cabinet of curiosities, and a space filled with prehistoric beasts. Meanwhile, the Contemporary Art Museum Houston showcases a rotating collection of international, national, and regional art exhibits and the Children's Museum of Houston invites kids to explore, invent, and experiment through hands-on learning and play. Even better, many of the museums in the area have free museum days, when there's no cost for admission.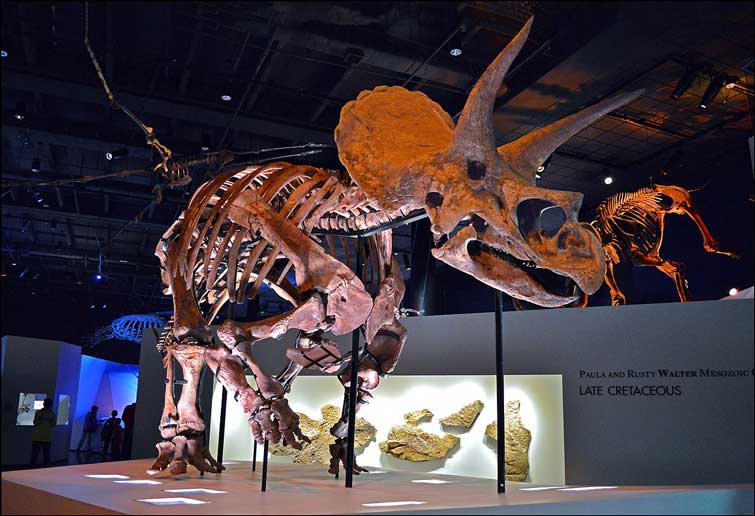 Triceratops specimen displayed at the Houston Museum of Natural Science

Outdoor Recreation
In Hermann Park, where the Houston Zoo is located, there are tons of other spaces for outdoor fun. That includes a Japanese garden, centennial gardens, playgrounds, jogging paths, and a soon-to-be dog park. There's also a 2-mile park railroad that takes visitors on a 20-minute train ride with stops at the museums, playgrounds, and even the METRORail station. Those who love the water can enjoy a day on the park's Lake Plaza by renting a pedal boat, also available in the park. The park also features the Hermann Park Golf Course, an 18-hole course that's open to the public seven days a week.
TMC is also a stop along the Brays Bayou Greenway Trail, a hike and bike trail that spans more than 30 miles. Along the trail, you could cross some of Houston's largest pedestrian bridges and travel, by bike or foot, to popular spots, like the Astrodome, and other Houston neighborhoods.

Houston's Brays Bayou Greenway Trail near the Texas Medical Center

Family-Friendly Events and Activities Close By
There's plenty to do with the family in TMC, but if you want to venture out of the neighborhood, even more family fun can be had less than five miles away. You can attend one of the many annual events put on by the Bellaire community, which in the past have included a 5k, 4th of July parade, and Great Pumpkin Hunt. Get lost in the large inventory of books, comic books, and magazines at the 20,000-square-foot library in Braeswood Place, where there are also seasonal readings and family movie nights. And in Knollwood Village, you can see houses get decked out for Halloween and Christmas as neighbors compete in the annual holiday home decorating contests put on by the community.
Nearby Shopping and Entertainment
Just 4 miles from TMC is West University, home to Rice University. On the campus, you'll find public art installation, an arboretum, and a unique, 40-minute light display that wows the public during sunrise and sunset. West University is also within walking distance of Rice Village Shopping District, a premier shopping destination in Houston that has more than 300 shops within its 16-block radius.
Easy Commutes
Whether you're venturing out of the area for fun or work, you'll have an easy time getting to nearby locations. Located in the inner loop, TMC has easy access to the South, Southwest, and Loop 610 freeways. The neighborhood also features three red line stations for the METRORail. From one of these stations, you can take the redline or connect to the green or purple lines. The METRORail lines can take you all over Houston, including to East of Downtown (EADO), the University of Houston, and NRG Park.
While it's easy to get around, you may never want to leave the area. If you're ready to make TMC your permanent home, we're ready to help you build it.
Building A Home In Texas Medical Center
When it comes to building your dream home, there are many things you need to know before jumping into the process. While your home builder will be with you every step of the way, it helps to know things like house construction costs, potential issues you could encounter, and other home-building secrets that could save you money and help you avoid stress. Learning more about building a quality custom home will help you make informed decisions and prepare you for one of life's most rewarding adventures, building a home.
Of course, one of the most important things you can do to ensure the best possible experience is to choose the right builder. You'll want to make sure your builder has experience, local knowledge and is one you can trust and enjoy working with. Remember, building a custom home can take anywhere from 6 months to more than 24 months depending on the size and complexity of the project. That's how long you'll be working with them. In other words, it matters if you like your builder.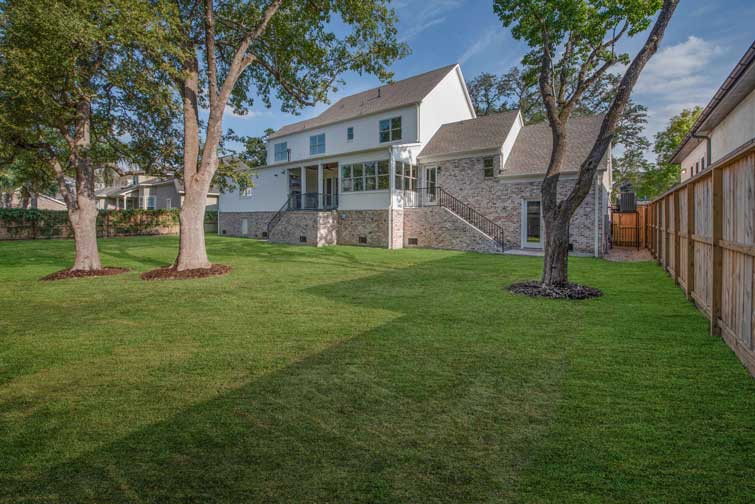 A Sabo Custom Home near the Medical Center: The gorgeous exterior combines the very best of Old Texas Brick and stucco. With so many beautiful trees protected during the design, this home feels like a far-away destination but is just minutes from the medical center. See more images of this home.

Custom Home Builders in Texas Medical Center Neighborhood
At Sabo Custom Builders, we're proud of the relationships we've built with our clients. To get an even better idea of what it's like to build your home with us, read our client reviews from folks who are now the proud owners of their dream homes. We've been in the business of building homes since 2009 and TMC is one of the places where we build.
When you work with us, you'll go through a three-step, home-building process.
Step 1 - Meet
The first step begins with meeting owner, Ed Sabo, to talk about your vision, expectations, budget, and timeframe. You'll also learn more about our company, our philosophy, and why we may be the right fit for your project.
Step 2 - Plan
The next step, the planning phase, is when we plan your design and price your project. We'll work with architects, interior designers, engineers, and other third-party vendors to ensure an energy-efficient home that is structurally sound, well-designed, and meets your target budget. Using your input along with historical data and recommendations from our building performance specialist, we'll also make sure the plans produce an energy-efficient home. During this time, you'll continue to work with Ed Sabo and a project manager.
Step 3 - Build
In the final step, all of the hard work will pay off as your custom home is built. During this step, your project manager will perform daily job site visits and keep you updated on the build until it is finished and you do a final walk-through of your new home.
When it comes to a successful build that's on time and within your budget, communication is key. That is why we use a unique client portal where you can review progress photos, check job logs and schedules, make financial decisions, upload documents, and send messages. You'll be able to view your selections, make upgrades, and easily communicate with the team – from anywhere at any time.
Work with Sabo Custom Homes
Whether constructing custom homes, adding a garage apartment, or completing major remodels, we have the building experience to create your dream home and the local knowledge to make recommendations regarding the neighborhood.
We want you to love where you live and we think you'll love living in a custom home in Medical Center, Texas. If you're ready to build your new home, contact Sabo Custom Builders.