With an abundance of opportunities to engage in art, culture, science, and nature, Museum District is a great place for those who are curious, active, adventurous, always learning, or raising families. With numerous museums, galleries, parks, gardens, and restaurants, there's something for everyone, whether you love to play and explore, learn more about the world, or celebrate various cultures. When you build a house in Museum District, Houston, Texas, you can do it all and more.
Reasons to Build Your Home in Museum District
The area has a mix of townhomes, lofts, and condos, but single-family homes are still a popular choice to move into or build. If you're looking for a place to build a new house, here are a few reasons Museum District may be the perfect place for you.
Access to Art, Science, and Culture
The aptly named Houston Museum District has 19 institutions all located within an approximate 1.5-mile radius of the Mecom Fountain in Herman Park. It boasts the second most museums in the United States. There are museums that teach history, display art, introduce people to new cultures, and encourage play.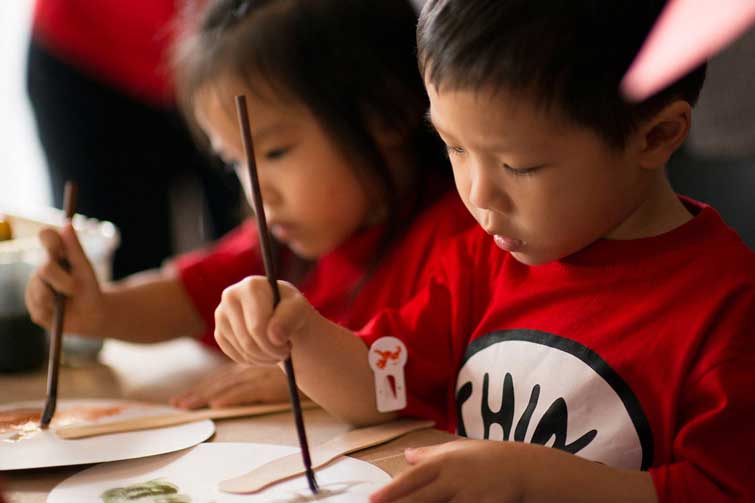 The Asia Society Texas Center offers lessons, activities, and content for young learners and families to enjoy. Photo courtesy of the Houston Museum District.

The Contemporary Arts Museum Houston showcases 40 years' worth of national, international, and regional art. Not only does it feature contemporary art exhibits, the famous, stainless steel building is also a work of art itself. Art lovers may also flock to the Museum of Fine Arts, Houston, one of the largest art museums in the country. Within walking distance from the Contemporary Arts Museum, this art museum features more than 65,000 works of art, a sculpture garden, repertory cinema, and European-style coffee bar.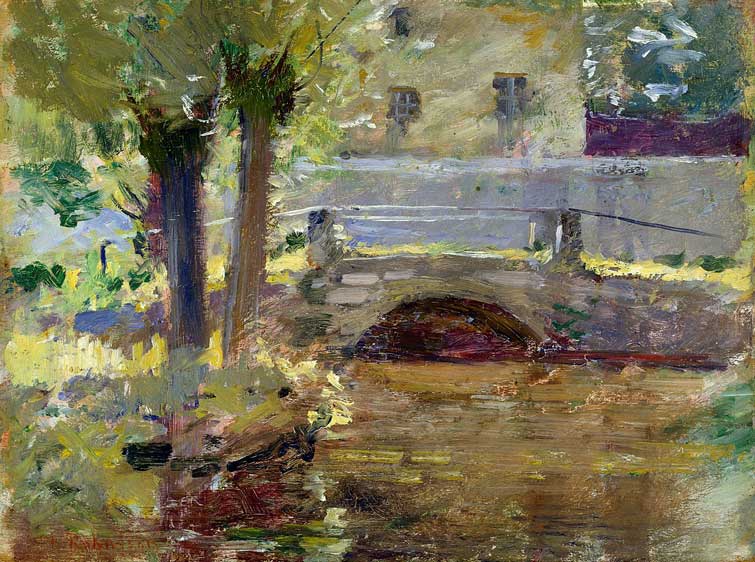 The Bridge at Giverny oil painting by Theodore Robinson, 1891, on display at Houston's Museum of Fine Arts.

In the Houston Museum of Natural Science, visitors can learn about Native Americans, Texas wildlife, paleontology, and gems and minerals, or they can gaze at the night sky at the Burke Baker Planetarium. Visitors of any age can learn through hands-on exploration and play at the Children's Museum Houston, which features exhibits that invite visitors to build robots, climb towers, solve mysteries, and even run the government.
The great thing about Museum District museums is that there are exhibits that change throughout the year, so there is always something new to see and learn.
Morian Hall of Paleontology at the Houston Museum of Natural Science. Photo courtsey of the Houston Museum District.

An Abundance of Outdoor Entertainment and Recreation
Sandwiched between the Museum District and Texas Medical Center (TMC), is Hermann Park, a 445-acre park that features several outdoor amenities, including serene Japanese gardens, the Miller Outdoor Theatre, and the McGovern Centennial Gardens, which feature hundreds of roses, shrubs, trees, and perennials. Another beautiful feature of the park is the Mecom Fountain, a gift to Houston from oil magnate John W. Mecom and his wife Mary. The fountain, located in the traffic circle at Montrose and Main Street, has become a landmark for the city.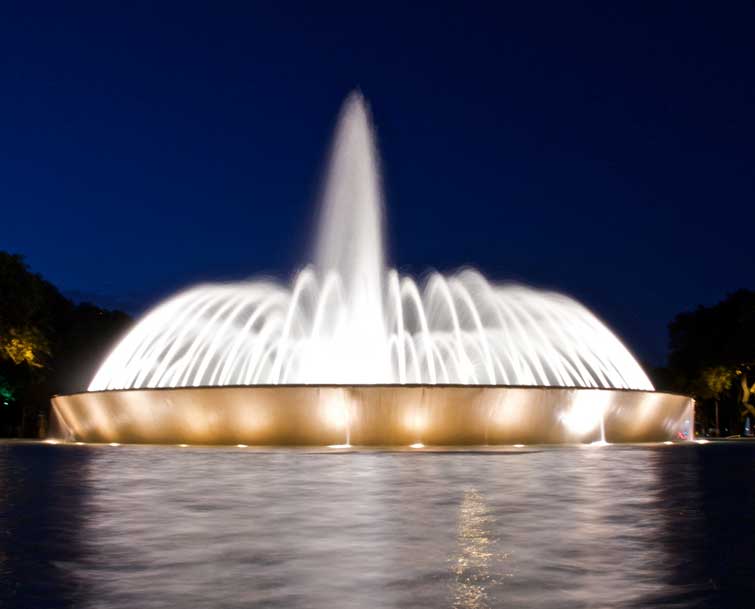 The nighttime beauty of Mecom Fountain in Hermann Park.

On the 8-acre McGovern Lake, residents can rent pedal boats and enjoy catch-and-release fishing, while golfers can enjoy 18 holes seven days a week at the Hermann Park Golf Course. The park also features a 2-mile railroad that takes riders around the park, with stops at various playgrounds and museums. The Houston Zoo is also located in the park and features over 6,000 animals along with a bug house, reflection pool, nature play space, and adventure bridge.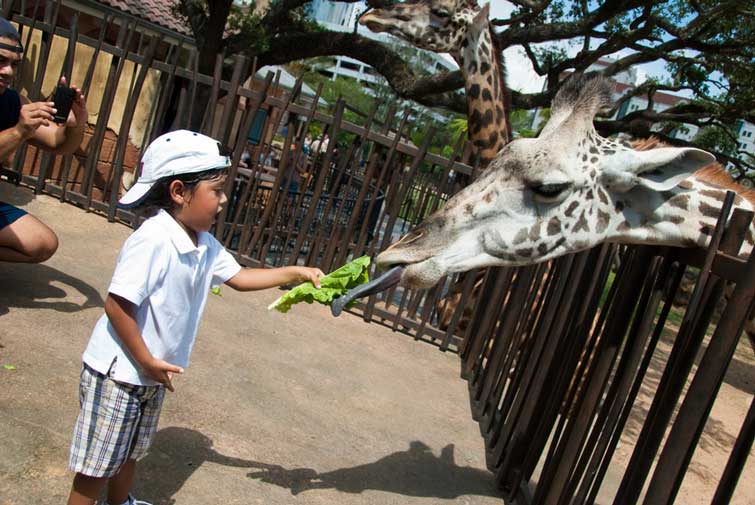 The Houston Zoo is located in Hermann Park. Photo courtesy of the Houston Museum District.

Free Entertainment
There are several free things to do in Museum District and other nearby neighborhoods. Many of the museums have free museum days, when there's no cost for general admission. For many museums, it's a certain day of the week, but some museums are always free. You can also catch a free show at Miller Outdoor Theatre. The country's only free open air-theater of its kind offers daytime and evening programs, including concerts, films, and dance performances.
Just five miles away, in West University Place, Rice University hosts a free, 40-minute light spectacular at its unique Skyspace structure during the sunrise and sunset. And in less than 10 miles, you can make it to Bellaire, where they host several events throughout the year, including parades, festivals, pumpkin hunts, and a Holiday in the Park event.
Several Commute Options
Museum District has a stop on the METRORail redline, meaning you can make an easy commute by train to other Houston neighborhoods and hot spots, like the Astrodome, Theater District, and East of Downtown (EaDo), where there's an abundance of sports games and live entertainment, an open-air food truck park, and the popular 36-foot Beatles statues. You can go to all of these hot spots without having to take your car or worry about finding free parking. This is especially useful during busy or high-traffic times, like on game days.
When you do want to go for a drive, the district's proximity to the South and Southwest freeways and main arteries like Fannin Street and Main Street, make it easy to go out and explore the area.
A Diverse Dining Scene
Museum District restaurants offer an array of cuisines including French, Mediterranean, Tex-Mex, Southern, and vegan. Residents can enjoy laid-back vibes at several eateries, coffee houses, and bars or take their dining experience up a notch at one of many upscale, fine dining establishments.
Outside of Museum District, but nearby, you can find even more dining options. In Houston Heights, you can expand your tastes by trying such entrees as kimchi quesadillas, antelope tenderloin, and waffle burgers. Or, if you want to make diverse dishes at home, you can pick up imported goods at one of the Asian supermarkets or Polish stores in Spring Branch, which also features an array of ethnic cuisines influenced by the surge of immigrants the area experienced in the 1960s.
Nearby World Class Healthcare
Texas Medical Center (TMC) is right next to Museum District, which means you'll have access to some of the best healthcare around. TMC is the largest medical city in the world. The area boasts several hospitals, including the largest children's hospital and cancer hospital in the world. The area, which also features numerous medical schools, hosts 9,200 patient beds and performs more than 180,000 surgeries every year.
Build a House in Museum District, Houston, Texas
While your builder is with you during the process of building your home, there are many things you need to know before starting, like house construction costs, issues you may encounter, and other ways to save money and avoid stress. Doing your research will help you make informed decisions and prepare you for one of life's most rewarding adventures, building a home.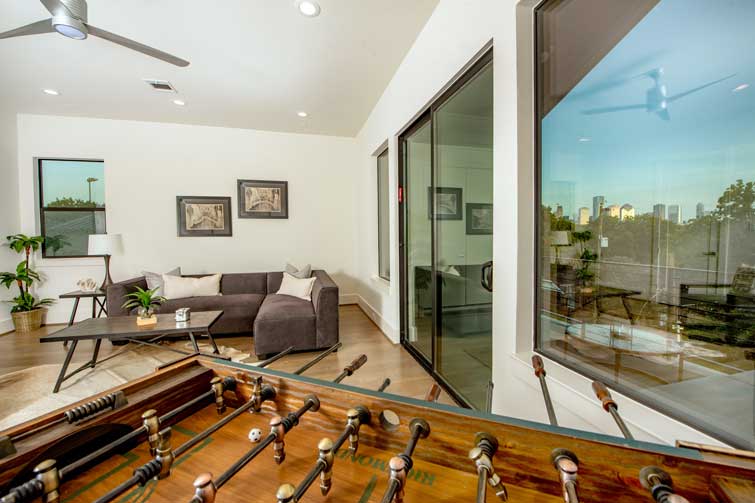 A custom home by Sabo Custom Builders with a view of downtown Houston.

Of course, you can ensure you have the best possible experience by choosing the right builder. A good builder will have years of experience, and an abundance of local knowledge and will be one you enjoy working with. Your project could take anywhere from 6 months to more than 24 months to complete, depending on the size and complexity of the project, so it matters if you like your builder. If you're looking for a custom home builder in the Museum District of Houston, Texas, you're in luck. We've been in the business of building homes since 2009 and Museum District is one of the places where we build.
Custom Home Builders in Museum District, Houston
At Sabo Custom Builders, we're not just proud of the homes we've built but the relationships we've built with our homeowners, too. Our client reviews will give you a glimpse into the personal approach we take with your build and the quality service we provide.
When you work with us, you'll go through a home building process that consists of three steps.
Step 1 - Meet
In the first step, you'll meet the owner, Ed Sabo, to discuss your vision, expectations, budget, and timeframe. Ed will tell you more about Sabo Custom Builders, our philosophy, and why we may be the right fit for your home build.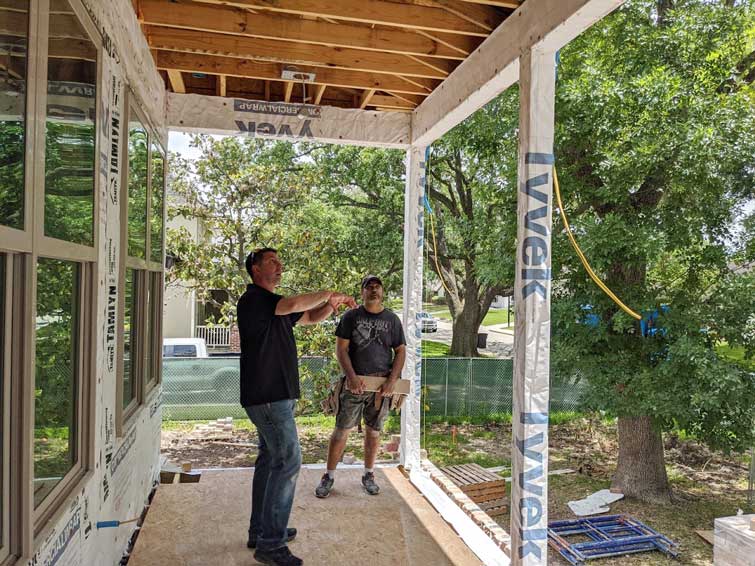 Ed Sabo (left) overseeing a new home build.

Step 2 - Plan
The second step, the planning phase, is when we plan your build and price your project. We'll work with architects, interior designers, engineers, and other third-party vendors to ensure your home is structurally sound, well-designed, and meets your target budget. You'll give us your input and we'll use it – along with historical data and recommendations from our building performance specialist – to make sure the plans produce an energy-efficient home. You'll continue to work with Ed Sabo and also a project manager in this step.
Step 3 - Build
Finally, all of the hard work will pay off as your custom home is built. During the building phase, your project manager will perform daily job site visits and keep you updated on your project until it is finished and you do a final walk-through of your new home.
Communication is an important part of a successful build – one that's on time and within your budget. That's why we use a unique client portal where you can review progress photos, check job logs and schedules, make financial decisions, upload documents, and send messages. No matter where you are, you'll be able to view your selections, make upgrades, and easily communicate with the team.
Work with Sabo Custom Homes
Whether building new homes, adding a garage apartment, or completing major remodels, we have the experience to construct your dream home and the local knowledge to make recommendations regarding the area.
We want you to love where you live and we think you'll love living in a custom home in Museum District, Texas. If you're ready to start your life-changing build, contact Sabo Custom Builders.